By Chuck Gray
It's been several years since I updated this list. In that time, mobile gaming has seen tremendous growth - both good and bad. On the one hand, truly fantastic titles have come out that push the limits of mobile hardware and provide hours of enriching entertainment. Or, distraction. On the other hand, we've seen explosive growth in the number of free-to-play games. You might think "Free, free is great!" Not when it comes to gaming, which has become infested by manipulative money-making schemes in the form of games which are definitely free to download, but nowhere near free to play. I'm thinking along the lines of Candy Crush, Clash of Clans, Simpsons Tapped Out, Dungeon Keeper, Final Fantasy: All The Bravest, and countless others. These are not games; they are portable slot machines, nothing more. You will not find any such games on this list. You will have to pay for everything featured here, but you will only have to do so once. Yes, some of them offer in-app purchases - but nothing that can or will diminish your enjoyment of the game.
This list is far from comprehensive, but it is thorough and heavily curated. I consider it to be the best of the best and hope that there is something here for every interest. Librarians pride themselves on their knowledge of books, movies, music, as well as games these days. I hope you find something you love.
Please note: while all of these games are available from Apple's App Store and Google Play Store, many are not in the Amazon App Store, which has a much smaller collection of games to choose from. Still, there is some good stuff there, and, if a game is available from them, a link is included. If you do not see an Amazon link, it's not in their store.
---
Bully - Trailer
Apple App Store | Google Play Store
The Rockstar Games tradition of groundbreaking, original gameplay and humorous tongue-in-cheek storytelling invades the schoolyard in Bully: Anniversary Edition. As mischievous 15-year-old Jimmy Hopkins, you'll navigate the social hierarchy of the corrupt and crumbling prep school, Bullworth Academy. Stand up to bullies, get picked on by teachers, beat the jocks at dodge ball, play pranks, win or lose the girl, and survive a year in the worst school around. Bully: Anniversary Edition includes everything from the critically acclaimed Bully: Scholarship Edition, plus support for high-resolution displays, enhanced graphics, improved lighting and textures, and controls redesigned for touch gameplay, all while adding multiplayer with new Friend Challenges.

Call of Duty: Black Ops Zombies - Trailer
Apple App Store | Google Play Store
Adapted from the best-selling console hit and built specifically for tablets and smartphones, Call of Duty: Black Ops Zombies delivers fan-favorite, heart-pounding maps: Kino Der Toten, Ascension, and Call of the Dead: Director's Cut, as well as "Dead-Ops Arcade," a 50-level zombie gauntlet that provides the ultimate undead challenge for fans of Call of Duty's signature zombie warfare. Play solo, or join a team of up to four players via WiFi as you mow down hordes of zombies using a variety of weapons and perks only available in the Call of Duty zombie experience.

Epoch - Trailer
Apple App Store | Google Play Store
Follow the echoes of a lost civilization in a visually stunning, post-apocalyptic world where only robots survive to fight a never-ending war. Fight towards your goal, and piece together the fragments to reveal exactly what happened when the old world ended. Is this the dawn of a new Epoch? And, how can you find the one person you were originally assigned to protect? Control your character with intuitive finger swipes. Make split-second tactical decisions, take cover, select targets, dodge incoming fire, utilize special abilities, and launch countermeasures.


Epoch 2- Trailer
Apple App Store | Google Play Store
EPOCH has trekked across a war-ravaged country to find the one person he was programmed to protect: Princess Amelia. Now he must follow a final, desperate lead to reach her, with the two warring robot armies of Omegatroniks and Alphetekk standing in his way. But what surprises await EPOCH when the Princess is finally located? And, what will she make of the world she wakes up to?

Grand Theft Auto III - Trailer
Apple App Store | Google Play Store
The sprawling crime epic that changed open-world games forever. Welcome to Liberty City. Where it all began. Rockstar Games celebrates the 10th anniversary of one of the most influential games of all time. The critically-acclaimed blockbuster Grand Theft Auto III comes to mobile devices, bringing to life the dark and seedy underworld of Liberty City. With a massive and diverse open world, a wild cast of characters from every walk of life, and the freedom to explore at will, Grand Theft Auto III puts the dark, intriguing, and ruthless world of crime at your fingertips. With stellar voice acting, a darkly comic storyline, a stunning soundtrack and revolutionary open-world gameplay, Grand Theft Auto III is the game that defined the open world genre for a generation.

Grand Theft Auto Vice City - Trailer
Apple App Store | Google Play Store | Amazon App Store
Welcome back to Vice City. Welcome back to the 1980s. From the decade of big hair, excess, and pastel suits comes the story of one man's rise to the top of the criminal pile. Vice City, a huge urban sprawl ranging from the beach to the swamps to the glitz to the ghetto, was one of the most varied, complete, and alive digital cities ever created. Entering a scenario with open-world gameplay and a character-driven narrative, you arrive in a town brimming with delights and degradation and are given the opportunity to take it over as you choose.

Grand Theft Auto San Andreas - Trailer
Apple App Store | Google Play Store | Amazon App Store
Five years ago, Carl Johnson escaped from the pressures of life in Los Santos, San Andreas, a city tearing itself apart with gang trouble, drugs and corruption. Where film stars and millionaires do their best to avoid the dealers and gangbangers. Now, it's the early 90s. CJ's got to go home. His mother has been murdered; his family has fallen apart, and his childhood friends are all heading towards disaster. On his return to the neighborhood, a couple of corrupt cops frame him for homicide. CJ is forced on a journey that takes him across the entire state of San Andreas to save his family and to take control of the streets. Rockstar Games brings its biggest release to mobile yet with a vast open-world covering the state of San Andreas and its three major cities – Los Santos, San Fierro, and Las Venturas – with enhanced visual fidelity and over 70 hours of gameplay.

Grand Theft Auto Chinatown Wars - Trailer
Apple App Store | Google Play Store | Amazon App Store
Following his father's murder, Huang Lee has a simple mission: deliver an ancient sword to his Uncle Kenny to ensure his family retains control of the Triad gangs of Liberty City. Huang is a spoiled rich kid who expects everything to run smoothly, but his trip does not go exactly as planned. After being robbed and left to die, he will search for honor, riches, and revenge in the most dangerous and morally bankrupt city in the world.

Grand Theft Auto Liberty City Stories - Trailer
Apple App Store | Google Play Store
Get ready to head back to the East Coast as Grand Theft Auto: Liberty City Stories returns to mobile devices. With shorter, streamlined missions designed with mobile gameplay in mind, this definitive open-world adventure has been remastered with extensive graphics enhancements, rebalanced touch controls, and cross-platform saves.
A former trusted wise guy for the Leone family, Toni Cipriani returns home to Liberty City after spending time in hiding for killing a made man. Now, the streets of Liberty City are in turmoil, as warring families vie for control, and the town begins to self-destruct under waves of political corruption, organized crime, drug trafficking, and union strikes. Deranged hit men, morally depraved tycoons, cynical politicians, and even his own mother stand in the way as Toni tries to bring the city under Leone family control.

Hot Trigger - Trailer
Apple App Store | Google Play Store | Amazon App Store
A first-person shooter where you can control time. When you're standing still, the time moves very slowly but if you make just a little move the time immediately speeds up. When you're shooting, you're also speeding the time up, so be very careful, and get ready for some hot action. Defeat your enemies, and use time to your advantage. Use multiple weapons, explore huge levels, and master your skills to complete deadly missions!

ICEY - Trailer
Apple App Store | Google Play Store
ICEY is a 2D, side-scrolling action game. As you follow the narrator's omnipresent voice, you will see through ICEY's eyes and learn the truth about her world. "All right, you caught me! This ISN'T really just a simple 2D action game, and you WON'T be seeing through ICEY's eyes... NOR will you learn the truth about her world." says the narrator.  "ICEY is a Metagame in disguise. The narrator will constantly urge you in one direction, but you must ask, "Why? Why am I following his directions? Why can't I learn the truth about this world and ICEY's purpose here?" Fight against his tyranny, and uncover what's really going on for yourself! In fact, you can become ICEY, and let loose the shackles of your own identity. You are ICEY, and ICEY is you... if you want it that way.

Implosion - Never Lose Hope - Trailer
Apple App Store | Google Play Store
Twenty years after the fall of Earth, the remnants of the human race are once again faced with extinction. The time has come to justify our existence. A mysterious life form known as the XADA squares off against humanity's last weapon - the War-Mech series III battle suit. Implosion features stunning console-quality graphics, first-class voice acting, and the most intuitive touch user-interface seen on the platform. A vast arsenal of super-tech weaponry is at your disposal, upgradable via the streamlined ARK Kernel system. Become the ultimate fusion of Man and Machine. Ensure the survival of the species.

Max Payne - Trailer
Apple App Store | Google Play Store | Amazon App Store
A fugitive undercover cop framed for murder, hunted by cops and the mob, Max is a man with his back against the wall, fighting a battle he cannot hope to win. Max Payne is a relentless, story-driven game about a man on the edge, fighting to clear his name while struggling to uncover the truth about his slain family amongst a myriad of plot twists. The groundbreaking original cinematic action-shooter, Max Payne introduced the concept of Bullet Time® in video games. Through its stylish slow-motion gunplay combined with a dark and twisted story, Max Payne redefined the action-shooter genre.

Modern Combat 4: Zero Hour - Trailer
Apple App Store | Google Play Store | Amazon App Store
The #1 Action FPS game is back on smartphone with a new chapter to push the boundaries of mobile gaming even further. In the wake of nuclear warfare, the only chance to avoid global devastation is in the hands of the few elite soldiers who must track down and rescue the world's leaders from a frighteningly familiar terrorist group.

Neon Chrome - Trailer
Apple App Store | Google Play Store
Neon Chrome is an infinite twin-stick, top-down shooter with procedurally generated levels and destructible environment. Choose your character, enter the elevator, and try to bring down the Overseer - again and again. Neon Chrome is an endless symphony of fight, die, improve, and repeat - many players have over 100 hours logged!

Oceanhorn - Trailer
Apple App Store | Google Play Store
You wake up and find a letter from your father. He is gone. The only lead is his old notebook and a mysterious necklace. What happened? Explore the islands of Uncharted Seas, a world filled with many dangers, puzzles, and secrets. Fight monsters, learn to use magic, and discover ancient treasures which will help you on your quest. Use all your wits and skill to unravel the mysteries of ancient kingdom Arcadia and sea monster Oceanhorn. Oceanhorn combines captivating storytelling, breathtaking 3D visuals, and exciting gameplay into one massive action adventure experience you will never forget.

Samurai II: Vengeance - Trailer
Apple App Store  | Google Play Store | Amazon App Store
Samurai II sends Daisuke on a quest for revenge across the war-scorched countryside. From a seafaring village to a flying fortress to the legendary Isle of the Dead, the samurai will stop at nothing to hunt down his arch-enemy Orochi. Will he get his Vengeance?

Shadowgun - Trailer
Apple App Store | Google Play | Amazon App Store
The year is 2350, and corrupt intergalactic corporations hold the rule of law, hiring bounty hunters and mercs to do their bidding. The best of the best are known as Shadowguns. Shadowgun puts you into the role of John Slade, the galaxy's most infamous bounty hunter. Your mission: hunt down Dr. Edgar Simon, maniacal genius and leader of his own mutant army. Infiltrate Dr. Simon's mountain fortress and fight his personal guard of cyborgs, battle droids, and genetically-enhanced humanoids. Using state-of-the-art weaponry, ships, and the assistance of S.A.R.A.—Slade's personal android assistant—Shadowgun combines intense tactical combat with 3rd-person action.

Street Fighter IV: Champion Edition - Trailer
Apple App Store | Google Play Store
Take control of 32 world warriors, and test your mettle against players from around the world. Street Fighter IV: Champion Edition perfects the winning gameplay formula by offering the most exciting fighting game on mobile. Long time Street Fighter fans can jump into the action and have an instant familiarity with the controls. For more casual players, Street Fighter IV features numerous settings and tutorials that put you on the path to victory.

Wild Blood - Trailer
Apple App Store | Google Play | Amazon App Store
Gameloft has harnessed the power of the revolutionary Unreal Engine to bring unimaginable battles in real-time, full 3D graphics. Live the unforgettable journey of Sir Lancelot as you never have before! King Arthur has gone mad, fueled by his jealousy toward Lancelot for romancing his wife, Queen Guinevere. In his desperation, Arthur has been tricked by his sister, the all-powerful sorceress Morgana Le Fey, to open the Hellgate and allow all forms of demons to enter the world. Meanwhile, Morgana has captured Guinevere and holds her hostage on the magical island of Avalon. Now, Lancelot needs to confront King Arthur and the evil Morgana in order to free the world from these evil creatures and save Guinevere.
---
1979 Revolution - Trailer
Apple App Store | Google Play Store
Based on real stories from Iran between 1978-1981. In this cinematic adventure game, you navigate this momentous revolution with only two weapons: your camera and your morality. You play as Reza, a photojournalist, and you get caught up by two opposing sides of the revolution. The fates of those around you hinge on the consequences of your choices. Unlike anything you've played before, 1979 Revolution immerses players into a moving and engaging experience where a documentary and a game come together.

A Normal Lost Phone - Trailer | Apple App Store | Google Play Store
Another Lost Phone - Trailer | Apple App Store | Google Play Store | Amazon App Store
A Normal Lost Phone is a game about exploring the intimacy of an unknown person whose phone was found by the player. The game takes the shape of a narrative investigation: you have to search the phone's text messages, pictures, and applications, in order to learn about its former owner.

Broken Age - Trailer
Apple App Store | Google Play Store
Broken Age is a family-friendly, hand-animated, puzzle-filled adventure game with an all-star cast. Funded by a record-breaking crowdfunding campaign and designed by industry legend Tim Schafer, Broken Age is a timeless coming-of-age story of barfing trees and talking spoons. Vella Tartine and Shay Volta are two teenagers in strangely similar situations, but radically different worlds. The player can freely switch between their stories, helping them take control of their own lives and dealing with the unexpected adventures that follow. Starring Elijah Wood, Masasa Moyo, Jack Black, Jennifer Hale, Wil Wheaton, and Pendleton Ward.

Broken Sword - Trailer |  Apple App Store | Google Play | Amazon App Store
Broken Sword II  - Trailer |  Apple App Store | Google Play | Amazon App Store
A port of the classic 90s adventure game, Broken Sword is a game that will make you think. You play two characters in alternating chapters: Nicole Collard, a French investigative journalist looking into a recent string of murders by a costumed killer in Paris; and George Stobbart, an American lawyer on vacation in Paris caught up in the investigation when his favorite café is blown up by the same killer. This is a story-driven game with a healthy dose of historical fiction thrown in. It features characters that you'll come to care about as much as those in any book or movie.

Dead Synchronicity - Trailer
Apple App Store | Google Play Store
Michael woke up not knowing who he was or what was happening around him. A strange plague drives people into distrust and despair. The pathetic remains of civilization live under the iron fist of the military. Help Michael to save himself from his own crumbling reality. Face a sick, merciless world that seems doomed. A world where past, present, and future ceased to exist.

Gabriel Knight: Sins of the Fathers 20th Anniversary Edition - Trailer
Apple App Store | Google Play Store | Amazon App Store
As struggling author and bookstore owner Gabriel Knight investigate a series of savage ritual killings in New Orleans and their connection to voodoo's sinister mysteries. The deeper he dives into master storyteller Jane Jensen's tale of terror and suspense, the closer he'll come to discovering the secrets of his own family history - and unfolding his destiny. Experience one of adventure gaming's most stunning masterpieces all over again in this blockbuster retelling of the award-winning 1993 murder-mystery, which adds all-new puzzles, scenes, and HD graphics! Blending the best of yesterday and today, it re-imagines the 1993 original, voted one of the greatest games of all time, for an entirely new generation of fans.

Gemini Rue - Trailer
Apple App Store | Google Play Store | Amazon App Store
A sci-fi noir adventure in the tradition of Blade Runner and Beneath a Steel Sky. Azriel Odin, ex-assassin, arrives on the rain-drenched planet of Barracus. When things go horribly wrong, he can only seek help from the very criminals he used to work for. Meanwhile, across the galaxy, a man called Delta-Six wakes up in a hospital with no memory. Without knowing where to turn or who to trust, he vows to escape before he loses his identity completely. As fate brings these two closer together, we discover a world where life is cheap, identities are bought and sold, and a quest for redemption can change the fate of a whole galaxy.

Grim Fandango Remastered - Trailer
Apple App Store | Google Play Store
Something's rotten in the land of the dead, and you're being played for a sucker. Meet Manny Calavera, travel agent at the Department of Death. He sells luxury packages to souls on their four-year journey to eternal rest. But there's trouble in paradise. Help Manny untangle himself from a conspiracy that threatens his very salvation.

Her Story - Trailer
Apple App Store | Google Play Store | Amazon App Store
Her Story is the critically acclaimed mystery game from Sam Barlow. Playing like an interactive true crime documentary, the game lets you go hands-on with a police database full of live action video footage. It stars Viva Seifert, actress and one half of the band Joe Gideon and the Shark. How does it work? Her Story sits you in front of a mothballed desktop computer and logs you into a police database. Search through hundreds of video clips that cover seven interviews from 1994 in which a British woman is interviewed about her missing husband. Explore the database by typing search terms, watch the clips where she speaks those words and piece together her story. Unlike anything you've played before, Her Story is an involving and moving experience. One that asks you to listen.

Ittle Dew - Trailer
Apple App Store | Google Play Store
Adventuress Ittle Dew and her sidekick Tippsie crash onto a strange island, filled with loot and mysterious inhabitants. It quickly dawns on the duo that this might become their biggest adventure yet. Ittle Dew boils down the classic adventure formula until there is only fun left. Experience devious puzzles, timeless gameplay, and lots of exploration!

Kathy Rain - Trailer
Apple App Store | Google Play Store
After learning of her grandfather's untimely passing, Kathy Rain, a strong-willed journalism student, returns to her hometown for the first time in many years to pay her respects - but things are not what they seem. An air of mystery surrounds the circumstances of Joseph Rain's death, involving unsolved investigations and disturbing behavior from the locals, driving Kathy to vow to uncover the truth for her widowed grandmother. As she follows a trail of clues he left behind, questions emerge… What was Joseph Rain really looking for that night all those years ago? What turned him into a mere shell of a man, confined to a wheelchair? What secret did a suicidal young artist take with her to the grave, and why are so many people in Conwell Springs going mad? Armed with her motorcycle, a pack of smokes, and her sharp wit, Kathy soon discovers that the truth is more dark and sinister than she ever imagined.

Life Is Strange - Trailer
Apple App Store | Google Play Store
Life Is Strange is a five-part episodic game that sets out to revolutionize story-based choice and consequence games by allowing the player to rewind time and affect the past, present, and future. Follow the story of Max Caulfield, a photography senior who discovers she can rewind time while saving her best friend Chloe Price. The pair soon find themselves investigating the mysterious disappearance of fellow student Rachel Amber and uncover a dark side to life in Arcadia Bay. Meanwhile, Max must quickly learn that changing the past can sometimes lead to a devastating future.

Oxenfree - Trailer
Apple App Store | Google Play Store
Oxenfree is a supernatural thriller about a group of friends who unwittingly open a ghostly rift. Play as Alex, a bright, rebellious teenager who brings her new stepbrother Jonas to an overnight party on an old military island. The night takes a terrifying turn when you unwittingly open a ghostly gate spawned from the island's cryptic past. How you deal with these events, your peers, and the ominous creatures you've unleashed is up to you. Determine every aspect of Alex's story while exploring Edwards Island, uncovering the base's dark past, and changing the course of your friends' lives.

République- Trailer
Apple App Store | Google Play Store | Amazon App Store
Developed over five years by industry veterans (Metal Gear Solid, Halo, F.E.A.R.), République is a thrilling and topical stealth-action game that explores the perils of government surveillance in the Internet Age. You receive a call from Hope, a woman trapped inside a mysterious totalitarian state. By hacking into the nation's elaborate surveillance network and taking control, you guide Hope through a web of danger and deception across five thrilling episodes.

SuperBrothers: Sword & Sworcery - Trailer
Apple App Store | Google Play Store
Superbrothers: Sword & Sworcery EP is an exploratory action adventure with an emphasis on audiovisual style. Traverse a mythic little realm, use a sword to do battle, and evoke sworcery to solve mystical musical mysteries. You will experience a video game world that is affected by moon phases and help a wandering warrior monk complete her woeful errand. You can also cooperate with friends via Twitter.

Thimbleweed Park - Trailer
Apple App Store | Google Play Store
Welcome to Thimbleweed Park. Population: 80 nutcases. A haunted hotel, an abandoned circus, a burnt-out pillow factory, a dead body pixelating under the bridge, toilets that run on vacuum tubes... you've never visited a place like this before.  Five people with nothing in common have been drawn to this rundown, forgotten town. They don't know it yet, but they are all deeply connected. And they're being watched. Who is Agent Ray really working for and will she get what they want? What does Junior Agent Reyes know about a 20-year-old factory fire that he's not saying? Will the ghost, Franklin, get to speak to his daughter again? Will Ransome the *Beeping* Clown ever become a decent human being? Will aspiring game developer Delores abandon her dreams and stick by her family? And, most importantly: how come no one cares about that dead body?

Waking Mars - Trailer
Apple App Store | Google Play Store
In 2097, life is discovered on Mars. When your mission of first contact becomes trapped by a cave-in, you must master the alien ecosystem to survive. With time running out, you will make a decision that determines the fate of a lost planet.

The Walking Dead - Trailer
Apple App Store | Google Play Store | Amazon App Store
The Walking Dead is a five-part episodic game series set in the same universe as Robert Kirkman's award-winning comic books featuring Deputy Sheriff Rick Grimes. This is not another shoot 'em up; it's a game that explores some very dark psychological places, revealing that the undead are not the only things to be afraid of when society crumbles. In this brand-new story, you are Lee Everett, a man given a second chance at life in a world devastated by the undead. With corpses returning to life and survivors stopping at nothing to maintain their own safety, protecting an orphaned girl named Clementine may offer him redemption in a world gone to hell. Experience a dark, visceral, and emotional series where every action and decision you make can result in the story changing around you. This tailored experience means that your story could be very different from that of someone else.

The Wolf Among Us - Trailer
Apple App Store | Google Play Store | Amazon App Store
From the creators of "The Walking Dead: A Telltale Games Series" comes a gritty, violent, and mature thriller based on the award-winning Fables graphic novels (DC Comics/Vertigo).  As Bigby Wolf - THE big bad wolf - you will discover that a brutal, bloody murder is just a taste of things to come in a game series where your every decision can have enormous consequences. An evolution of Telltale's choice and consequence game mechanics will ensure the player learns that even as Bigby Wolf, Sheriff of Fabletown, life in the big bad city is bloody, terrifying, and dangerous.

Yesterday Origins - Trailer
Apple App Store | Google Play Store
It's 1481. You play a young John, who is publically humiliated and dragged through the street. Under suspicion of witchcraft, he is imprisoned by the Spanish Inquisition to be tortured. Later, he undergoes an alchemical transformation, making him immortal. But not everything goes to plan. As a result, after each resurrection, John completely loses his memory. Five hundred years later, in the present day, John is living in Paris with Pauline, his immortal partner. Together, they are searching for an artifact that is needed to reproduce the ritual so John will never forget who he is again. During their investigation, they will have to solve mysteries from the past and face dangerous protagonists who want to steal their secrets...
---
Agricola - Trailer
Apple App Store | Google Play Store
Agricola: All Creatures Big & Small is a digital adaptation of Uwe Rosenberg's award-winning two-player board game featuring farming and livestock breeding. You're in charge of growing a farm from its simple beginnings - just a hut and some fields. Send your workers to the village market to barter for goods and livestock. Breed different animals. Eventually, with your ever-growing animal population and special buildings, you'll compete against your neighbors to see who has the best farm! You only have three workers in each of the eight rounds, so make your decisions count. Play against AI, or claim your plot on a worldwide leaderboard, and become a strategy game legend.

Carcassonne - Trailer
Apple App Store | Google Play Store
Just a few years after its release, Carcassonne became a modern classic and a must-play. Turn by turn, the players create a landscape by placing tiles with roads, cities, fields, and cloisters. The players deploy their followers - knights, monks, thieves, or farmers - to earn points. The player with the most points after the final scoring wins the game. The ever-changing landscape makes each game a new experience.

Catan - Trailer
Apple App Store | Google Play Store
A port of the tabletop board game Settlers of Catan, this is easy to recommend to board gamers as it has made the transition to the digital world relatively intact. In Catan, you play a settler looking to develop your lands while creating and trading resources. You can play against AI enemies or real people online. If you've never played Catan but enjoy strategy, planning, and an enthralling experience, you should give it a try.

Chainsaw Warrior - Trailer
Apple App Store | Google Play Store | Amazon App Store
Chainsaw Warrior from Games Workshop is the classic nail-biting game for one strong-nerved player: It's the year 2032, and spatial warping has opened a hole into another dimension in the midst of the old municipal buildings at the heart of Manhattan. Bizarre and dangerous creatures are flooding into our dimension, intent on destruction. Behind their actions is a controlling intelligence known as "Darkness", who intends to drag New York back into the warp – destroying it utterly! Air strikes, ground assaults, and WMDs have all failed to stop the swarming forces from beyond. All that remains is a single hope: a shadowy ex-special forces soldier, enhanced for combat and known only as 'Chainsaw Warrior'. Equipped with all the latest high-tech armaments, he must battle his way through to the trans-dimensional ground-zero and defeat Darkness. Not only are there swarms of zombies, mutants, traps, Chaos Agents and other twisted denizens between him and Darkness, time is the enemy, too! Only an hour remains to save New York before it is torn from our world forever. First published as a solo board game in 1987, it has been updated, translated, and re-engineered for the digital generation. In Chainsaw Warrior, it's just you against both the clock and a tide of evil! Can you prevail where all others have failed? You only have 60 minutes to save New York!

Elder Sign: Omens - Trailer
Apple App Store | Google Play Store | Amazon App Store
Elder Sign: Omens places you in control of up to four intrepid investigators as they fight to keep all-powerful Ancient Ones from invading our world through a museum's arcane exhibits!
*Inspired by the work of H.P. Lovecraft*
*Build a team of unique investigators*
*Explore an ever-changing museum*
*Face challenging arcane tasks*
*Save the world from absolute destruction*
Can you stand against the impending arrival of a malevolent Ancient One?

Galaxy Trucker - Trailer
Apple App Store | Google Play Store | Amazon App Store
The award-winning adaptation of Vlaada Chvátil's award-winning board game. Build spaceships, dodge meteors, and fight off bad guys, all in a quest to be the trucker with the most cosmic credits at the end of the game. Can you build a spaceship from sewer pipes? Are you willing to face meteors, pirates, and smugglers? Can you fly a five-engine ship after four engines have been destroyed? Then you are our kind of trucker!

Neuroshima Hex - Trailer
Apple App Store | Google Play Store
Neuroshima Hex is a fast-paced, tactical board game where up to four players (human or AI) lead their troops to victory. Every player controls one of the four armies struggling for influence and survival in the world destroyed in a 30-years-long war. March with the machines of Moloch, leading its army towards setting the new world order. Become Borgo and unite the forces of the mutants who spread terror in the wastelands. Lead The Outpost—Humanity's last and only hope and try to beat the machines in an uneven guerrilla war. Be the boss of The Hegemony—land of gangers not caring about the fate of others and living only for violence and their mad entertainment. In the world of Neuroshima Hex, you need to prove you have what it takes to survive.  Neuroshima Hex is well-known in the board game community. It holds the 100th place in the prestige BoardGameGeek ranking, which contains almost 50,000 games from around the world. In May 2007, Neuroshima Hex was awarded a special jury distinction for the Best Polish Designer Game published in 2006. It was also published in the US (by Z-Man Games) and France (by IELLO).

Pandemic - Trailer
Apple App Store | Google Play Store | Amazon App Store
As skilled members of a disease-fighting team, you must keep four deadly diseases at bay while discovering their cures. Travel the world, treat infections, and find cures.
You must work as a team to succeed. The clock is ticking as outbreaks and epidemics fuel the spreading plagues. Can you find all four cures in time? The fate of humanity is in your hands! Pandemic: The Board Game is a family-friendly cooperative game. Simple to understand and lots of fun, Pandemic: The Board Game puts you in an apocalyptic situation where you must work as a team to save the world.

Sentinels of the Multiverse - Trailer
Apple App Store | Google Play Store | Amazon App Store
Calling all Sentinels! Do you have what it takes to defend the Multiverse? Create a team of comic book heroes, with their own play-styles, backstories, and grudges. Pit them against a variety of maniacal and formidable villains. Defeat your enemies, and save the Multiverse! Sentinels of the Multiverse is the award-winning game in which players join forces as heroes to combat a dastardly villain in a dynamic environment. The digital version of SotM plays like a comic book come to life! Control an entire team of heroes in single player, or head online and join heroes from around the globe in multiplayer. This is cooperative card-battle like you've never played before! The rules of the game are deceptively simple: Play a Card, Use a Power, and Draw a Card. What makes SotM unique is that each card has special abilities that can create powerful combos or even change the rules of the game!


Small World 2 - Trailer
Apple App Store | Google Play Store | Amazon App Store
Based on the phenomenally successful Small World fantasy board game with over 500,000 copies sold! Take control of insanely fun fantasy race & special power combos - such as Berserk Halflings, Triton Merchants, Alchemist Ratmen, and Dragon-master Amazons - to grab all the land you can in a world that is just too small to share with your opponents!

Ticket to Ride - Trailer
Apple App Store | Google Play Store | Amazon App Store
Ticket to Ride for mobile is a cross-country train adventure playable online in which you will collect and play train cards to claim railway routes connecting cities listed on Destination Tickets you receive at the start of each game. The longer your routes, the more points you'll earn. But be careful not to find yourself blocked off by your opponents, as each Destination ticket not fulfilled will cost you dearly!

Through the Ages - Trailer
Apple App Store | Google Play Store

The official adaptation of Vlaada Chvátil's strategy classic, the second-best board game ever, according to Board Game Geek website.
---
Crashlands - Trailer
Apple App Store | Google Play Store
Become Flux Dabes, a galactic trucker whose latest shipment gets derailed by a chin-strapped alien menace named Hewgodooko, leaving you stranded on an alien planet. As you hustle to retrieve your packages, you'll become enmeshed in a nefarious plot of world domination, which will require all of your wits and both of your glutes to overcome. Learn recipes from the local sentient life, make new friends, uncover ancient secrets and deadly bosses, tame everything and build yourself a home-away-from-home as you learn to thrive on planet Woanope.

Don't Starve - Trailer
Apple App Store | Google Play Store
Experience the uncompromising wilderness survival game full of science and magic on the go! Play as Wilson, an intrepid Gentleman Scientist who has been trapped and transported to a mysterious wilderness world. Wilson must learn to exploit his environment and its inhabitants if he ever hopes to escape and find his way back home.  Enter a strange and unexplored world full of strange creatures, dangers, and surprises. Gather resources to craft items and structures that match your survival style. Play your way as you unravel the mysteries of this strange land.

Minecraft Pocket Edition - Trailer
Apple App Store | Google Play Store | Amazon App Store
Minecraft is about placing blocks to build things and going on adventures!  Pocket Edition includes randomly generated worlds, is multiplayer over a local WiFi network, and Survival and Creative modes. You can craft and create with your friends anywhere in the world so long as you have spare hands and battery to burn.

Terraria - Trailer
Apple App Store | Google Play Store | Amazon App Store
DIG! FIGHT! EXPLORE! BUILD! The critically-acclaimed, best-selling indie sandbox adventure has finally arrived on Android! In Terraria, every world is unique - from the floating islands in the sky to the deepest level of The Underworld. Adventure to the ends of the Earth, and defeat villainous bosses along the way. The world is your canvas!
---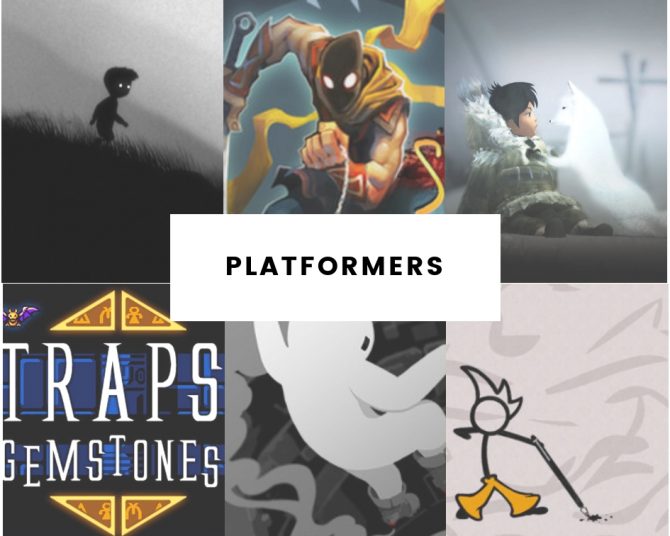 Alto's Adventure - Trailer
Apple App Store | Google Play Store | Amazon App Store
Join Alto and his friends as they embark on an endless snowboarding odyssey. Journey across the beautiful alpine hills of their native wilderness, through neighboring villages, ancient woodlands, and long-abandoned ruins. Along the way, you'll rescue runaway llamas, grind rooftops, leap over terrifying chasms and outwit the mountain elders – all while braving the ever-changing elements and passage of time upon the mountain.

Downwell - Trailer
Apple App Store | Google Play Store
Downwell is a curious game about a young boy venturing down a well in search of untold treasures with only his gunboots to protect him. Make your way further and further down into the darkness filled with nasty creatures and mysterious secrets to collect the spectacular red gems scattered about the rocks. Step into precariously placed shops, and buy some helpful items or level up to battle well-dwelling monsters and uncover hidden caves filled with riches and relics. No two trips down the well are ever the same!

Chameleon Run - Trailer
Apple App Store | Google Play Store
Chameleon Run is a unique, fast, and challenging auto-runner with a colorful twist. Jump, switch, and run through expertly crafted levels that will have you running back for more. Your goal is to switch your color to match the ground as you run and jump from platform to platform. Sounds easy right? Well, think again! Features:
-Fast-paced running, jumping, and switching colors
-Fun jumping mechanics like "double jump" and "head jump"
-Pixel-perfect physics
-Stylish, super smooth and colorful graphics
-Non-linear levels with 3 special objectives in each one
-Compete for the fastest time on each level
-Simple two-button controls

Dandara - Trailer
Apple App Store | Google Play Store
The world of Salt hangs on the brink of collapse. The citizens, once free spirits, now stand oppressed and isolated. But not all is lost, for out of this aether of fear arises a heroine, a ray of hope. Her name is Dandara. Welcome to a unique 2D metroidvania platformer full of mystical creatures and boundless exploration. Defy gravity as you jump across floors, walls, and ceilings alike. Discover the mysteries and secrets hidden throughout the world of Salt and its diverse array of characters. Empower Dandara for combat and survival against enemies bent on oppression.

Fotonica - Trailer
Apple App Store | Google Play Store
Ever wondered what running at 140mph feels like? Fotonica is a first-person game about the thrill of speed and traveling flawlessly through complex environments. One-handed controls: hold your finger down to run;  release to jump; hold in mid-air to dive and land. Fontinica is simple but is not easy: it follows a tradition of arcade games that are easy to pick up and almost impossible to master. A multi-layered level design across eight different tracks, together with a procedural endless mode make for a game that is incredibly deep. Think you can outrun your friends? Try the split-screen versus challenges.

Leo's Fortune - Trailer
Apple App Store | Google Play Store | Amazon App Store
Leo's Fortune is a platform adventure game where you hunt down the cunning and mysterious thief who stole your gold. Beautifully hand-crafted levels bring the story of Leo to life in this epic adventure. Voyage through lush environments from mossy forests and arid deserts to pirate cities and snowy mountains. Survive vicious traps and solve physics-based puzzles through 24 levels of treacherous adventure. Follow the trail of gold, and uncover the truth behind Leo's stolen fortune.

Limbo - Trailer
Apple App Store | Google Play Store | Amazon App Store
Uncertain of his sister's fate, a boy enters LIMBO, a side-scrolling puzzle platformer displayed in black-and-white tones, using lighting, film grain effects and minimal ambient sounds to create an eerie and horrific atmosphere. (from Wikipedia)

Never Alone - Trailer
Apple App Store | Google Play Store
Never Alone (Kisima Ingitchuna) is an atmospheric puzzle platformer developed in collaboration with the Iñupiat, an Alaska Native people, drawn from a traditional story that has been shared across the generations. Experience the epic journey of Nuna and Fox as they search for the source of an eternal blizzard that threatens the survival of everything they have ever known. Guide both characters as you trek through frozen tundra, leap across treacherous ice floes, swim through underwater caverns and face enemies both strange and familiar.

Shadow Blade Reload - Trailer
Apple App Store | Google Play Store | Amazon App Store
Shadow Blade is an action-platformer set in a visually striking world where the ancient teachings of ninjas and samurai clash upon a modern landscape. Sprint through stages littered with traps, slaying enemies along your path without hesitation as Kuro, the blade of shadow!

Traps n' Gemstones - Trailer
Apple App Store | Google Play Store
Traps n' Gemstones is an adventurous platform game, among gamers typically known as the Metroidvania genre, from Donut Games. Precious relics have suddenly started to disappear from a well-hidden pyramid that has been guarded by Bedouins for generations, who claim to have spotted an unknown perpetrator. As a freelance archaeologist and expert on ancient explorations, you've been secretly called to Egypt to help them solve the mystery. Arriving at the pyramid's entrance empty-handed, your journey starts off by searching some well-known chambers for items and weapons to help you on your quest. But, as you get deeper into the pyramid, you begin to realize that this mystery will require more than just a whip, a sharp mind, and a good amount of explosives to unravel.

Super Fancy Pants Adventure - Trailer
Apple App Store | Google Play Store
The Fancy Pants Adventures series was started over ten years ago by Brad Borne, an indie developer who wanted to redefine video-game platforming by making speed and tight controls feel compatible. Over the years, he has honed his craft, turning his Fancy Pants games into a worldwide phenomenon with over 100 million plays and becoming one of the top games of all time on Kongregate. This newest version, Super Fancy Pants Adventure, is a culmination and a reimagining of the series into a full-fledged title. Whether it's your first time playing Fancy Pants or your hundredth, Super Fancy Pants Adventure is a wild run!
---
Brothers: A Tale of Two Sons - Trailer
Apple App Store | Google Play Store | Amazon App Store
A man clinging to life. His two sons, desperate to cure their ailing father, are left with but one option. They must set out upon a journey to find and bring back the "Water of Life" as they come to rely on one another to survive. One must be strong where the other is weak, brave where the other is fearful; they must be brothers. Guide two brothers, Naia and Naiee, on an epic fairy tale journey using specially designed, dual virtual joysticks. Control both brothers simultaneously as you experience co-operative play in single-player mode. Solve puzzles, explore the stunning locations, and fight boss battles using unique qualities of the big and little brother, each varying in strength, size, and speed. Experience an emotional story told without words…narrative above the ordinary.

Deus Ex GO - Trailer
Apple App Store | Google Play Store
Puzzles in Deus Ex GO challenge you to utilize a mixture of stealth, espionage, and raw intelligence as you guide secret agent Adam Jensen across a visually stunning storyline. Sneak, hack, and fight your way past enemies - and augment Adam with futuristic upgrades.

FRAMED - Trailer
Apple App Store | Google Play Store | Amazon App Store
Unlike anything you've played before, FRAMED delivers a completely new type of game experience. FRAMED is a noir puzzle game where you rearrange panels of an animated comic book to change the outcome of the story. Simply grab comic panels, and swap them with a touch of your finger!

Gorogoa - Trailer
Apple App Store | Google Play Store | Amazon App Store
Gorogoa is an elegant evolution of the puzzle genre, told through a beautifully hand-drawn story designed and illustrated by Jason Roberts. The gameplay is wholly original, comprised of lavishly illustrated panels that players arrange and combine in imaginative ways to solve puzzles. Impeccably simple yet satisfyingly complex, Gorogoa isn't just a game - it's a work of art, expressing itself through soulful, charming illustrations and distinguished puzzle mechanics.

Hitman GO - Trailer
Apple App Store | Google Play Store
Hitman GO is a turn-based puzzle game with beautifully rendered diorama-style set pieces. You will strategically navigate fixed spaces on a grid to avoid enemies and take out your target or infiltrate well-guarded locations. You really have to think about each move, and all the Hitman tools of the trade you would expect are included; disguises, distractions, sniper rifles, and even 47's iconic Silverballers.

Human Resources Machine - Trailer
Apple App Store | Google Play Store
Program little office workers to solve puzzles. Be a good employee! The machines are coming... for your job. Human Resource Machine is a puzzle game for nerds. In each level, your boss gives you a job. Automate it by programming your little office worker. If you succeed, you'll be promoted up to the next level for another year of work in the vast office building. Don't worry if you've never programmed before - programming is just puzzle solving. If you strip away all the 1s and 0s and scary squiggly brackets, programming is simple, logical, beautiful, and something that anyone can understand and have fun with! Are you already an expert? There will be extra challenges for you. From the creators of World of Goo and Little Inferno. Have fun! Management is watching.

Lara Croft Go - Trailer
Apple App Store | Google Play Store
Lara Croft GO is a turn-based puzzle adventure set in a long-forgotten world. Explore the ruins of an ancient civilization, discover well-kept secrets and face deadly challenges as you uncover the myth of the Queen of Venom.
-Experience lush visuals and a captivating soundtrack
-Navigate using simple swipe-to-move controls
-Fight menacing enemies, overcome dangerous obstacles, and escape deadly traps
-Solve more than 115 puzzles split into 7 chapters
-Collect ancient relics, and unlock new outfits for Lara

Layton Brothers Mystery Room - Trailer
Apple App Store | Google Play Store
Genius investigator Inspector Alfendi Layton and his newly assigned assistant, Detective Constable Lucy Baker, research only the most extraordinary cases in Scotland Yard's "Mystery Room." Investigate the evidence, find the contradictions, and unravel the truth that lies shrouded in mystery! Uncover the details behind each crime as you zoom in and examine suspicious objects to add them to your mounting list of evidence. Piece them together to form an airtight case! Expose the crucial contradictions in the case files as you match them with evidence that just doesn't add up. Call in the witnesses, and find out if they have anything to hide! These criminal masterminds won't make solving their heinous crimes easy. Find the holes in their arguments until their lies shatter around them, bringing the truth of each mystery to light!

Monument Valley - Trailer
Apple App Store | Google Play Store | Amazon App Store
Monument Valley is a surreal exploration through fantastical architecture and impossible geometry. Guide the silent princess Ida through mysterious monuments, uncovering hidden paths, unfolding optical illusions, and outsmarting the enigmatic Crow People.

Nihilumbra - Trailer
Apple App Store | Google Play Store
Discover the beautiful world of Nihilumbra, and join Born on his adventure to find himself whilst trying to escape from his inevitable curse. Born was created from the absolute nothingness - The Void. But somehow, he separates himself from the black emptiness and appears in the world. This is where his long odyssey begins, in which he will learn how to use the colors around him to gain powerful abilities and transform the world. However, his experiences come at a high price. The Void must be one. It seeks to reclaim him and will never stop chasing him, destroying everything in its path along the way. To survive, Born will have to condemn the earth he walks to its inevitable obliteration by The Void.

Old Man's Journey - Trailer
Apple App Store | Google Play Store
Immerse yourself in a visual narrative as you uncover stories of the old man's life told through beautiful vignettes of his memories. Interact with the serene, whimsical environment as you solve playful puzzles and shape the landscape around you, growing the hills to create the old man's path forward.

Phoenix Wright: Dual Destinies - Trailer
Apple App Store | Google Play Store
Join Phoenix Wright and his junior lawyers as they confront an all-new cast of interesting, amusing, and sometimes outrageous characters. Fan favorites also make their return under some unexpected and unusual circumstances! Delight in solving the mysteries and smile at the characters' amusing and often ridiculous shenanigans. The drama and dialogue will keep you laughing, crying, and guessing until the very end!

Professor Layton: Curious Village - Trailer
Apple App Store | Google Play Store
Professor Layton, a true English gentleman and famous archeologist, drives to the remote settlement of St. Mystere with his apprentice, Luke, in response to a request from the widow of a wealthy baron. The baron's will indicates that the family treasure, the Golden Apple, is hidden somewhere within the village, and whoever finds it will inherit the whole of the Reinhold Estate. The Professor and Luke must search the town for clues leading to the precious heirloom.

The Room Series
Room: Apple App Store | Google Play Store | Amazon App Store | Trailer
Room Two: Apple App Store | Google Play Store | Amazon App Store | Trailer
Room Three: Apple App Store | Google Play Store | Amazon App Store | Trailer
The Room, Old Sins: Apple App Store | Google Play Store | Amazon App Store | Trailer
The Room series games are based around three-dimensional puzzle boxes of increasing difficulty. Realistic graphics, particularly on mobile, and superior sound design bring the creepy setting to life in a way few other puzzle games have been able to accomplish.

Spider: Secret of Bryce Manor - Trailer
Apple App Store | Google Play Store
You are a spider. One afternoon, you discover an abandoned mansion. Where is the family who lived here? What happened, and why did they leave? Search for clues as you adventure from room to room on the hunt for your next meal. Build webs of your own design - in the corners, under the furniture, and in the forgotten places too small for humans. Are you a shrewd enough sleuth to decode the mystery and uncover the Bryce family secret?
---
Hyperburner - Trailer
Apple App Store | Google Play Store
Hyperburner is a high-speed space flier set in a distant colonial solar system. Take on the sheer velocity of increasingly dangerous courses, unlocking endless-mode leaderboards as you master each one. Built for mobile with smooth and responsive free-steering; playable in portrait or landscape.

Need for Speed Most Wanted - Trailer
Apple App Store | Google Play Store | Amazon App Store
Evade a relentless police force while you clash with street racers. Race and chase hot cars like the SRT Viper GTS, Porsche 911 Carrera S, Hummer H1 Alpha, and many more. Feel the intensity of no-brakes-allowed street racing with realistic full-car damage.

Repulze - Trailer
Apple App Store | Google Play Store
This action racer puts you in the seat of experimental Repulze hovercraft working as a test pilot for the Man. Well, the Synthetic Man is more accurate. The Synthetics run the corporations. The corporations run the world. You are way down the food chain getting pushed around to complete their "scientific" challenges. But you'll show 'em!

Riptide Renegade - Trailer
Apple App Store | Google Play Store | Amazon App Store

Experience the future of illicit hydro jet racing, where armored riders kick out death-defying stunts over massive waterfalls, dodge cops through public waterways, and boost at breakneck speeds across surging waves. You are a hydro jet rider, framed and cast out from the Riptide GP league, forced to race illegally through city waterways, flooded ruins, and churning factory machinery in an effort to reclaim your reputation and your title. Play through the single-player career to unlock new vehicles, playable characters, and customization features as you take down bosses and build your crew. Then, take your skills online for the ultimate test as you battle opponents around the world in eight-player online matches. Challenge your friends for leaderboard supremacy in the ghost-racing challenge mode.

Sonic & Sega All-Stars Racing - Trailer
Apple App Store | Google Play Store | Amazon App Store

The world's fastest hedgehog, Sonic, and the SEGA All-Stars are zooming on to your mobile device for the ultimate party racing showdown. Race as your favorite character across 16 white-knuckle courses in a frantic race to the finish line. Stay ahead of the pack by dodging traps, firing missiles and, if all else fails, wreaking havoc with your All-Star moves! Whether racing on your own, or battling it out with friends, anything can happen in this crazy competition where winning is only part of the fun!
---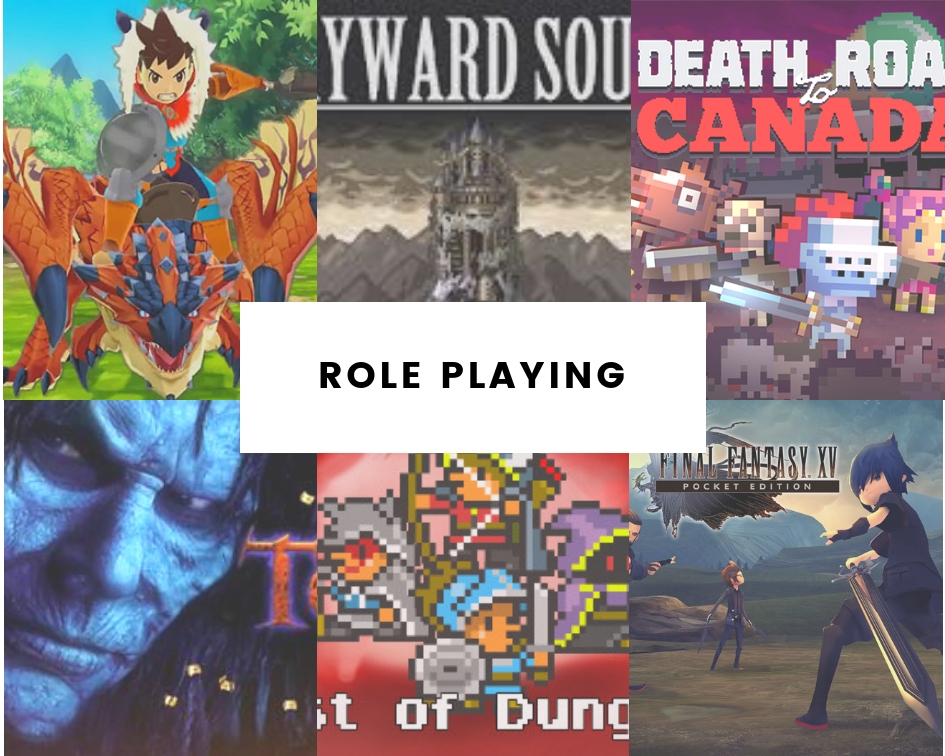 Crowntakers - Trailer
Apple App Store | Google Play Store
Dark times are imminent: the king's abduction throws a once-peaceful land into turmoil. Being the chosen one elected by the king himself, you embark on an adventurous journey to free him from the hands of the evil duke.
Features:
-Roguelike turn-based strategy meets RPG on a hexagonal battlefield.
-On every game start, the world is rebuilt with different environments and encounters.
-More than four diverse and procedural environments
-Hire nine individual mercenaries to take on bandits, wildlife, and malevolent knights
-Utilize the unique class skills of the archer, wizard, scout, and others
-Gather resources, level-up your companions, and collect mighty equipment
-Alternative endings

Death Road to Canada - Trailer
Apple App Store | Google Play Store
Death Road to Canada is a randomly generated road trip action RPG. You manage a group of jerks as they explore cities, find weird people, and face up to 500 zombies at once. Everything's randomized: locations, events, survivor personalities, and skills. There's a different story every time you play. Travel the Death Road from Florida to Canada, the last nation on Earth. Find special events, rare encounters, and unique recruits. Recruit a grunting super-bodybuilder who's strong enough to pick up and throw the car. Try to teach a dog how to walk upright and shoot a minigun. Most of all, get eaten by enormous hordes of slow, classic-style zombies.

Final Fantasy XV Pocket Edition - Trailer
Apple App Store | Google Play Store | Amazon App Store
Explore the world of the fifteenth Final Fantasy in the palm of your hand. After years of fighting, the nations of Lucis and Niflheim at last agree to an armistice. As a symbol of this promised peace, Noctis, crown prince of Lucis, is to wed the Lady Lunafreya of Tenebrae. The prince sets forth for his wedding on the eve of the signing ceremony, sent off by his father, King Regis. Unbeknownst to Noctis, however, the journey ahead is fraught with perils.

Monster Hunter Stories - Trailer (from the Nintendo 3DS version)
Apple App Store | Google Play Store
In a world where large monsters roam, and people everywhere make a living hunting, there's a remote village of people who follow a different set of customs. They are the Monster Riders, a people who don't hunt but instead form bonds with monsters. Unlike hunters, they raise and live in harmony with monsters, forming inseparable bonds with them using mysterious artifacts known as Kinship Stones. The monsters that form kinships with Riders, known as "Monsties," possess incredible powers. By becoming a Rider, you, too, can befriend countless Monsties, riding them as you explore a vast, exciting world.
Planescape: Torment: Enhanced Edition - Trailer
Apple App Store | Google Play Store
In Planescape: Torment: Enhanced Edition, you'll explore the planes, survive combat alongside a party of unique companions, and solve puzzles unlike any ever seen in the genre. The original Planescape: Torment was released in 1999 to widespread critical acclaim. It won RPG of the Year from multiple outlets for its unconventional story, characters, and an amazing soundtrack. Since then, millions of Planescape: Torment fans have enjoyed exploring the strange and dangerous city of Sigil and surrounding planes. Discover an incredibly rich story and a unique setting unlike anything else in fantasy. Defeat strange and alien creatures, engage in rich dialogue, and explore the dark and dangerous Planescape setting in this 50+ hour RPG classic.

Quest of Dungeons - Trailer (from the PC version)
Apple App Store | Google Play Store | Amazon App Store
Quest of Dungeons is a turn-based dungeon crawler game featuring a good old 16-bit retro artistic look. By playing as either a warrior, a wizard, an assassin or a shaman you have to traverse dungeons, defeat enemies, and loot everything you can in order to survive. You can learn new skills in Tomes you find along the way and buy/sell items at shops. The entire game is procedurally generated, so you won't find items/enemies in the same place each time you play.

Wayward Souls - Trailer
Apple App Store | Google Play Store | Amazon App Store
Wayward Souls is an action-adventure game built for quick playthroughs and massive amounts of replay value. It was inspired by Spelunky, Secret of Mana, and the publisher's previous game, Mage Gauntlet. Procedurally generated random levels mean that every time you play the game, it's a different experience. Control one of six characters, all with their own unique play styles, abilities, and equipment. Explore and fight for survival - in combat sequences where your tactics, positioning, and timing matter.

The World Ends with You: Solo Remix - Trailer (from the Nintendo DS original version)
Apple App Store | Google Play Store
Welcome to Shibuya, a mishmash of attitudes and styles in the heart of Tokyo. A boy named Neku wakes up in a crowded intersection, alone and unaware of how he got there. Then, he receives a weird text: "Clear this mission...or face erasure." With that, Neku is thrust into a life-or-death game that sends him scrambling down streets paved with one riddle after another. What is the Reaper's Game? Why is Neku a Player, and what is he playing for? Will the Game really end if he survives all seven days? Another mystery is always around the corner.
---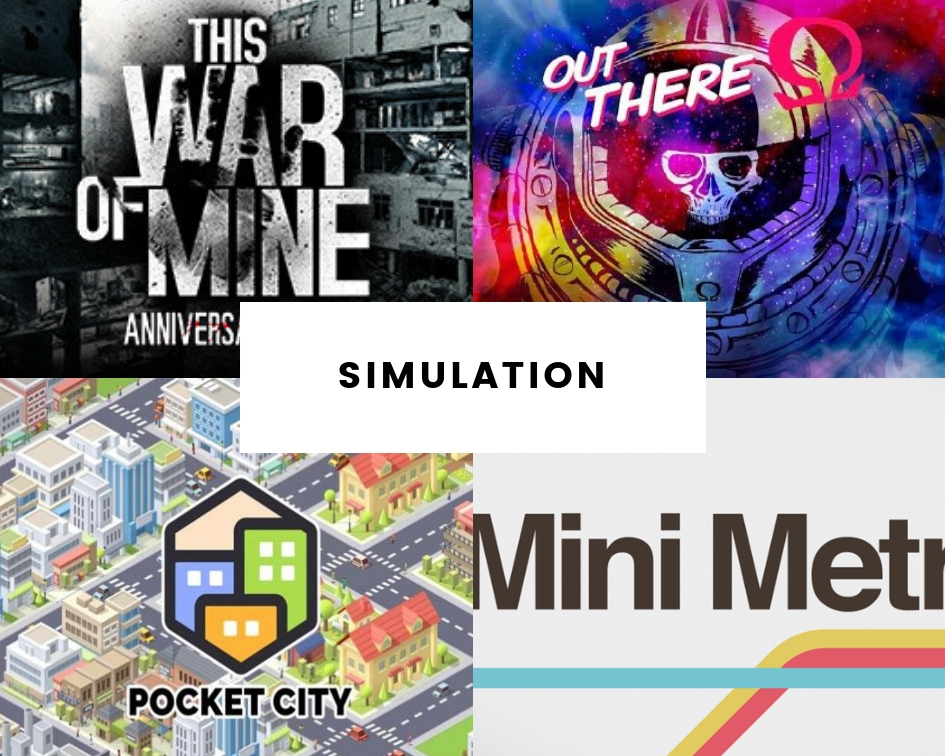 Mini Metro - Trailer
Apple App Store | Google Play Store
Mini Metro is a game about designing a subway map for a growing city. Draw lines between stations, and start your trains running. Keep your routes efficient by redrawing them as new stations open. Decide where to use your limited resources. How long can you keep the city moving? Features:
-Random city growth means each game is unique
-20 real-world cities will test your planning skills
-A variety of upgrades so you can tailor your network
-Normal mode for quick scored games, Endless to relax, or Extreme for the ultimate challenge
-Compete against the world every day with the Daily Challenge
-Colorblind and night modes
-Responsive soundtrack created by your metro system, engineered by Disasterpeace

Out There: 𝝮 Edition - Trailer
Apple App Store | Google Play Store | Amazon App Store
You are an astronaut awaking from cryonics not in the solar system, but... out there... in a far and unknown place of the galaxy. In Out There, you will have to survive, tinkering your ship with what you can gather drifting in the void, and spot garden planets to refill your oxygen supply. Space is a hostile place; dangerous and mysterious adventures will mark each step of your travel. You will not only meet intelligent species that won't care about you but also deal with ancient powers linked to your destiny and the fate of mankind itself.

Pocket City - Trailer
Apple App Store | Google Play Store
Build your own city as the new mayor. Create residential, commercial, and industrial zones. Build parks and recreation spots. Respond to crime and disasters. Watch your city come alive! No microtransactions or long wait times! Everything is unlocked and rewarded through gameplay. Pocket City re-imagines classic city-building simulation gameplay. Build a unique city by creating zones and special buildings.
-Trigger fun events, such as block parties, or disasters, such as tornadoes
-Complete quests to earn XP and money
-Unlock advanced buildings by leveling up
-Unlock new land with different terrain types
-Succeed by optimizing your cash flow, traffic, happiness, and more
-Enjoy a dynamic city with citizens, vehicles, animals and animated buildings
-Upload your city to the cloud to transfer to another device, or share with a friend
-Intuitive, touch-based city building
-Playable offline
-Play in portrait mode or landscape mode
-NO microtransactions

This War of Mine - Trailer
Apple App Store | Google Play Store | Amazon App Store
In This War Of Mine, you do not play as an elite soldier, but, rather a group of civilians trying to survive in a besieged city - struggling with lack of food and medicine and constant danger from snipers and hostile scavengers. The game provides an experience of war seen from an entirely new angle. The pace of This War of Mine is imposed by the day-and-night cycle. During the day, snipers outside stop you from leaving your refuge, so you need to focus on maintaining your hideout: crafting, trading, and taking care of your survivors. At night, take one of your civilians on a mission to scavenge through a set of unique locations for items that will help you stay alive. Make life-and-death decisions driven by your conscience. Try to protect everybody from your shelter or sacrifice some of them for longer-term survival. During war, there are no good or bad decisions; there is only survival. The sooner you realize that, the better.
---
Banner Saga - Trailer | Apple App Store | Google Play Store | Amazon App Store 
Banner Saga 2 - Trailer | Apple App Store | Google Play Store 
Embark on your own epic journey in Banner Saga, the critically acclaimed tactical RPG where your strategic choices directly affect your personal story and the world around you. Leave your home, and strike out on a desperate journey to save your people. Lead your caravan across stunning environments and into war with enemy clans and vicious Drudge soldiers. Build relationships, and make choices that will shape the future of your clan as you scramble to survive in this beautiful, bleak world.

Civilization Revolution 2 - Trailer
Apple App Store | Google Play Store
The sequel to one of the most successful strategy games on mobile is here! Sid Meier's Civilization Revolution 2 challenges players to build a glorious empire that will stand the test of time. This is the first game in the Civilization catalog to be developed and available exclusively for mobile devices. Civilization Revolution 2 offers mobile strategy fans a brand-new 3D presentation and more tactical depth than ever before! Find out if you have what it takes to rule the world!

Final Fantasy Tactics: The War of the Lions - Trailer
Apple App Store | Google Play Store
Released as the Final Fantasy series' first tactical RPG in 1997, Final Fantasy Tactics on Playstation went on to sell over 2.4 million copies worldwide. The game grew in popularity upon its re-release in 2007 as Final Fantasy Tactics: The War of the Lions for the PSP with added features such as new movies, scenarios, and jobs. Now, the game has finally arrived for the mobile! You can enjoy the game whose story gave life to the world of Ivalice and whose high strategy battles bring tactical games to a whole new level.

Space Marshals - Trailer
Apple App Store | Google Play Store | Amazon App Store
Space Marshals is a sci-fi Wild West adventure taking place in outer space! This tactical top-down shooter puts you in the shoes of specialist Burton in his hunt for dangerous fugitives after a disastrous prison break. Use the environment to your advantage. Avoid attacks by taking cover. Flank enemies for extra efficiency, but avoid getting flanked yourself! Use the tools of the trade to gain an edge - frag grenades, flash bangs, distractions, personal shields, proximity mines and more. Choose your approach with care. Some say running into the fray guns blazing isn't always the best option. Use distractions to single out opponents. Use disguises and covers to sneak past irrelevant guards. Use silenced weapons to covertly reduce the enemy numbers. Choosing your load-out is a big part of your tactics. In addition to body armor and grenades, you can carry one two-handed and one single-handed weapon in each mission - and there's something for everyone. Shotguns, handguns, assault rifles, sniper rifles, crossbows, energy weapons, throwing axes, and more.

Ticket to Earth -  Trailer
Apple App Store | Google Play Store
A distant planet. A dying colony. A deadly conspiracy. Fight a corrupt system in Ticket to Earth, the revolutionary tactical puzzle RPG! The mining boom has left New Providence to die, and just one Earth-bound ship remains. Forced to fight to protect everything she loves, orphaned Rose stands between bloodthirsty marauders and a corrupt government. The puzzle grid is your battlefield as you position your team, collect matching tiles, and power up devastating special abilities. You've never played anything like this! Ticket to Earth seamlessly blends turn-based tactics, thought-provoking puzzles, and engaging RPG storytelling in one entertaining package.

XCOM: Enemy Within - Trailer
Apple App Store | Google Play Store | Amazon App Store
Set in an alternative version of the year 2015 during an alien invasion of Earth, the game puts the player in control of an elite multinational paramilitary organization called XCOM, which is tasked with defending the Earth. The player commands troops in the field in a series of turn-based tactical missions; between missions, the player directs the research and development of new technologies from recovered alien technology and captured prisoners, expands XCOM's base of operations, manages XCOM's finances, and monitors and responds to alien activity. (source: Wikipedia)
---
Dark Echo - Trailer
Apple App Store | Google Play Store | Amazon App Store
Trapped in darkness, you must use visualized sound to guide your way through threatening environments. The sounds you create will bounce off obstacles, revealing the shape of the surrounding world. It won't be long before your only way of sensing the world attracts a horrifying evil that devours both sound and souls. Survive through 80 levels that will make your heart race and leave you with an irrational fear of red lines. A foreboding soundscape, best experienced with headphones, sets the tone for your journey. Explore, solve puzzles, and - most importantly - stay alive.

Halfpipe Hero - Trailer
Apple App Store | Google Play Store | Amazon App Store
Halfpipe Hero is an awesome arcade skateboarding game featuring retro pixel graphics with quick and simple controls. Tap to build speed, flip, pull off sweet tricks, and nail each landing as you go faster and higher on the halfpipe. Nail those landings, and grind your way to victory! Complete trick challenges to unlock new locations and cool heroes.

I Am Bread - Trailer
Apple App Store | Google Play Store
You are bread! Your mission: become toast! Take on all hazards to deliciousness as you head on an adventure across 8 levels, taking bread from its natural confine in the kitchen, throughout the house, and then venturing outside into the garden and beyond. Look out for the floor and any other unsavory obstacles that could harm your tastiness as you seek out the means to achieve bread's ultimate goal. Using the unique control system, designed from the ground up for mobile, you can bring the slice to life and take it on an incredible adventure. With you in control, this bread will be boldly going where no bread has gone before!

Octodad: Dadliest Catch - Trailer
Apple App Store | Google Play Store
Octodad: Dadliest Catch is a game about destruction, deception, and fatherhood. The player controls Octodad, a dapper octopus masquerading as a human, as he goes about his life. Octodad's existence is a constant struggle, as he must master mundane tasks with his unwieldy boneless tentacles - while simultaneously keeping his cephalopodan nature a secret from his human family.

Part Time UFO - Trailer
Apple App Store | Google Play Store | Amazon App Store
In Part Time UFO, fly a UFO around and complete odd jobs.
Help out at a farm, support cheerleaders, cook up the ultimate dessert at a restaurant, build castles, and much more! Wherever the UFO goes, there are sure to be plenty of jobs waiting. At the center of all this is the UFO's super-special-awesome claw! Use the claw crane to grab, move, and stack objects to complete jobs.