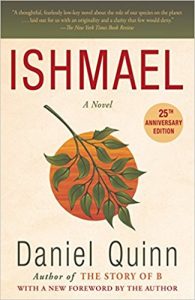 The narrator of this extraordinary tale is a man in search for truth. He answers an ad in a local newspaper from a teacher looking for serious pupils, only to find himself alone in an abandoned office with a full-grown gorilla who is nibbling delicately on a slender branch. "You are the teacher?" he asks incredulously. "I am the teacher," the gorilla replies. Ishmael is a creature of immense wisdom and he has a story to tell, one that no other human being has ever heard. It is a story that extends backward and forward over the lifespan of the earth from the birth of time to a future there is still time save. Like all great teachers, Ishmael refuses to make the lesson easy; he demands the final illumination to come from within ourselves. Is it man's destiny to rule the world? Or is it a higher destiny possible for him - one more wonderful than he has ever imagined?
If you want another didactic, moving novel on human ecology - check out these suggestions for Daniel Quinn's influential Ishmael.
What begins as an exploration of the lines of thought and experience that run between the massive lynchings in early twentieth-century America to today's death squads in South America soon explodes into an examination of the very heart of our civilization. "The Culture of Make Believe" is a book that is as impeccably researched as it is moving, with conclusions as far-reaching as they are shocking.

A novel both timely and prophetic, Ernest Callenbach's Ecotopia is a hopeful antidote to the environmental concerns of today, set in an ecologically sound future society. Hailed by the Los Angeles Times as the "newest name after Wells, Verne, Huxley, and Orwell," Callenbach offers a visionary blueprint for the survival of our planet . . . and our future.

Off the easternmost coast of India lies the immense archipelago of tiny islands known as the Sundarbans. Life here is precarious, ruled by the unforgiving tides and the constant threat of attacks by Bengal tigers. Into this place of vengeful beauty come two seekers from different worlds, whose lives collide with tragic consequences. A contemporary story of adventure and romance, identity and history, The Hungry Tide travels deep into one of the most fascinating regions on earth, where the treacherous forces of nature and human folly threaten to destroy a way of life.

It is the story of the quest of Siddhartha, a wealthy Indian Brahmin who casts off a life of privilege and comfort to seek spiritual fulfillment and wisdom. On his journey, Siddhartha encounters wandering ascetics, Buddhist monks, and successful merchants, as well as a courtesan named Kamala and a simple ferryman who has attained enlightenment. Traveling among these people and experiencing life's vital passages - love, work, friendship, and fatherhood-Siddhartha discovers that true knowledge is guided from within.

Every May the sea turtles confuse the lights of Verity, Fla., for the moon and invade as quickly as they can. But the residents act up as well, and a divorced mother and a cop must solve the puzzle. Burr is a true professional who knows her limits and chooses to push them at every turn yet never oversteps her boundaries. With chameleon changes in tone and pitch, Burr can fill the shoes of any character that comes her way.