Love your library and want to make it even better? The library has worked with Dr. Cara Graham Parker, C Parker Consulting, Inc., to offer an important opportunity for you to help create the library's new five-year strategic plan. CRRL's current strategic plan is here.
It's important to include all perspectives in this effort, so please lend your voice and vision to charting the future of your library by completing the survey and/or participating in a focus group.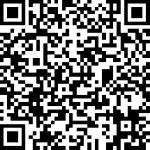 The Customer Survey should take no more than 10 minutes, and responses are anonymous. The survey closes on August 10 at 5:00 pm. To fill out the survey, click here or scan the QR code with your mobile device.
Focus Groups will be virtual and will likely include 4-5 people each. If you need a computer or WiFi access in order to participate, library staff will be happy to get you set up in a branch. Focus groups will be held August 15, 7:00-8:00 pm and August 18, 6:00-7:00 pm. To indicate interest, email Dr. Parker at cara.parker@cparkerconsulting.com or text 540.623.7454 with your preferred date. You can also indicate your preference for attending a focus group by filling out the survey.
If you have any questions about this process, please contact Dr. Parker at cara.parker@cparkerconsulting.com or 540.623.7454, or CRRL Deputy Director Rebecca Purdy at deputy.director@crrl.org or 540-372-1144 et. 7004.