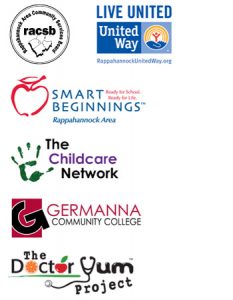 Children need a strong early-learning foundation to succeed in school and to succeed in life. We are proud to partner with the following local organizations to bring attention to this issue of vital importance to our community: Rappahannock Area Community Services Board, Rappahannock United Way, Smart Beginnings Rappahannock Area, The Childcare Network, Germanna Community College, and The Doctor Yum Project.
Did you know?
One in seven children in our community arrives in kindergarten without the basic skills to succeed.
High-quality early child care and educational experiences help shape a child's future academic success.
Children who develop resilence thrive even when faced with challenges.
Babies and toddlers who are ready to read develop better language skills than those who are not.
The first five years are the most critical in the development of a child's brain when most than 1 million new neural connections form every second.
What can you do?
Check out titles even your baby is sure to enjoy!
Read to your child daily and keep it fun! Stop reading as soon as they show you they're done.