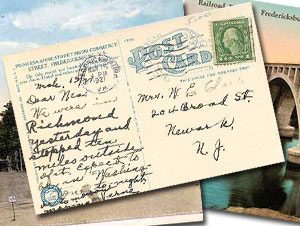 These postcards are from the collection of Fredericksburg resident De'Onne C. Scott, many of which are featured in her book Fredericksburg.
As an avid postcard collector, she has amassed hundreds of postcards depicting our area. You'll find Civil War depictions and photographs, area museums and historical landmarks, churches, schools, motels and much more.
View selected postcards below, or you may also wish to browse the entire collection on Flickr:
www.flickr.com/photos/crrlnews/sets/72157623488725870/
Rights:
The Central Rappahannock Regional Library makes no assertions as to ownership of any original copyrights to images digitized for this collection. However, these images are intended for personal or research use only. Any other kind of use, including, but not limited to commercial or scholarly publication in any medium or format, public exhibition, or use online or in a web site, may be subject to additional restrictions including but not limited to the copyrights held by parties other than the Library.
USERS ARE SOLELY RESPONSIBLE for determining the existence of such rights and for obtaining any permissions and/or paying associated fees necessary for the proposed use.