Sign up now to participate December 21, 2020 - March 31, 2021.
2. On Monday, December 21 (the first day of winter!), log into your account and select Adult Winter Reading Challenge to begin logging books for this challenge and participating in activities.
3. Log 5 books to earn your Adult Winter Reading Challenge mug! Participate in activities to earn badges, and log more reading to earn additional badges.
NOTE: You can log reading ANYTIME through our Beanstack app or website, but only reading logged during an active challenge will count towards that challenge.
2. Once you install and open the app, you'll be asked if your library uses Beanstack. Click "Yup!"
3. Search for "Central Rappahannock," then select "Central Rappahannock Regional Library (VA)."
4. When you first enter CRRL's Beanstack app, you'll see a login screen. At the bottom of this screen, you'll see "Don't have an account? Sign up!" Click on "Sign up!"
5. Begin by creating your Beanstack Account. You'll be prompted to create a username and password and enter additional information like your name and contact information.
6. Once you've created your Beanstack Account, you'll create your Reader Profile. You will participate in challenges with your Reader Profile. You can also add additional Reader Profiles (family members) to your account here. For example, parents would create the family's Beanstack Account, then a separate Reader Profile for themselves and each child.
7. If you created multiple Reader Profiles, you can manage reading logs and achievements for everyone in one place. To switch between Readers, you can select your initials or your profile image (if you added one) in the top right of your screen.
8. Your Log allows you to see recent activity, books completed, badges earned, reviews written, and highlights of your activity over time.
9. Reading challenges help set reading goals and offer fun activities. Earn badges for meeting reading goals and completing activities. If reading challenges are available for your age, you will see them under the "Challenges" tab. You can begin participating in the Adult Winter Reading Challenge beginning December 21!
A Note on Logging Reading: Beanstack Tracker App vs. Website
There may be a very slight delay in this, but reading logged on either the mobile app or website will be synced to your account.
The mobile app tracks reading sessions, which is slightly different than the logging experience on the website, which tracks books read for the Adult Winter Reading Challenge. Because of this, your reading may appear differently on each interface.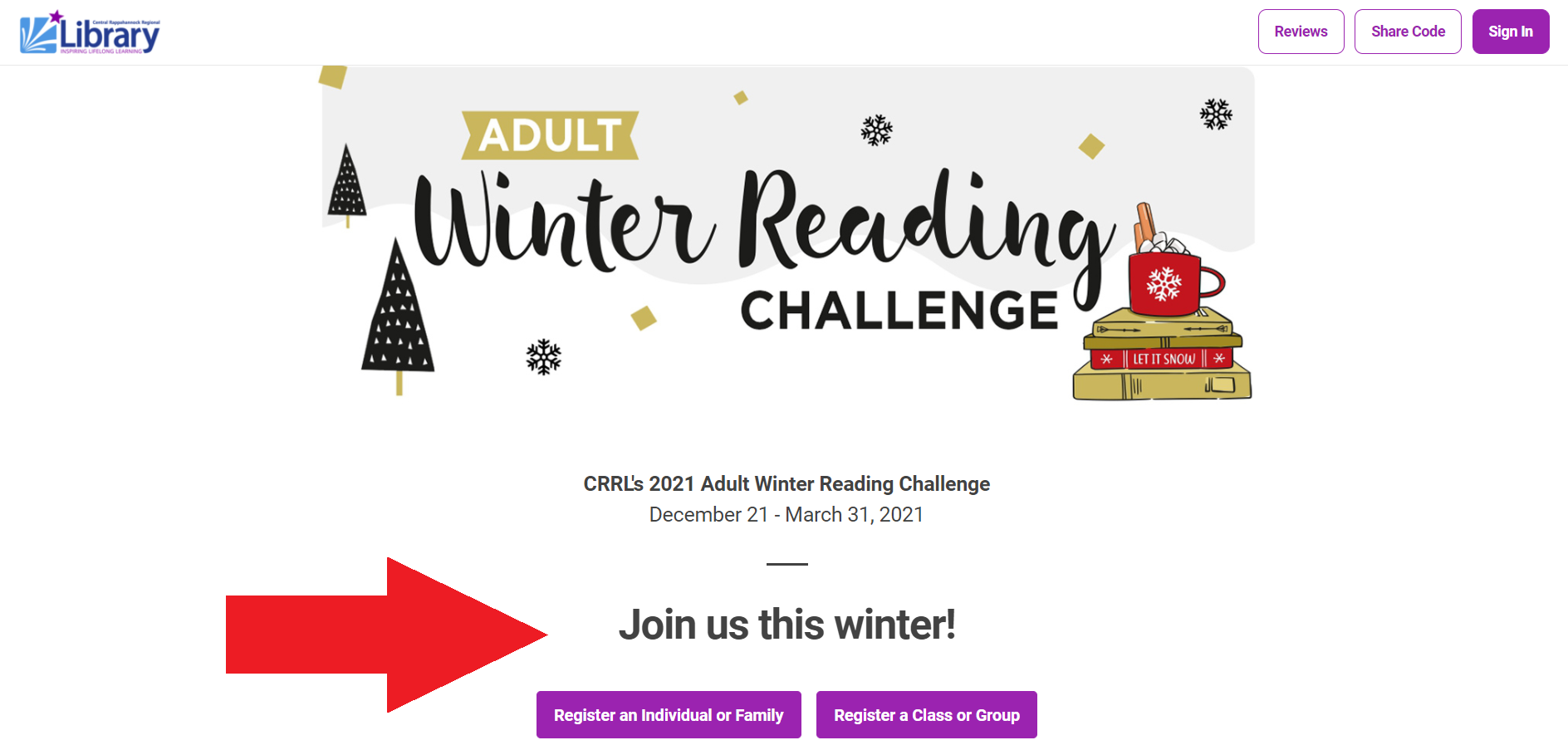 You will be asked 2 questions:
"Have you previously used Beanstack to participate in a reading challenge?"
Click "No."
"Who would you like to register?"
Click "I am registering myself."
Provide the requested information to register. 
CONGRATULATIONS!
You now have a Beanstack account to be used for any future reading challenges, and you are registered for 2021 Adult Winter Reading!
You will be asked if you would like to register another adult or child.
Click "No," unless you would like to register another adult.
That's it!
Return Monday, December 21, to begin participating in our 2021 Winter Reading Challenge!
Psst ... you can get a sneak peek at the activity badges you can earn by entering the challenge and clicking on the "Activity Badges" tab.