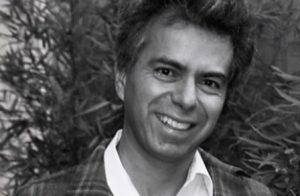 Gary Soto came from a hard background by anyone's reckoning. His young father died in an industrial accident when Gary was only five years old. His Mexican American family was struggling and lived in a tough neighborhood—next to a junkyard and across from a pickle factory. All through school, he and his family worked at whatever jobs they could get, including picking fruits as migrant laborers.
His grades were never very good, and his family never encouraged reading. That just wasn't part of their culture, what Gary referred to as the culture of poverty. In high school, he had a D average and was better known for being popular with the girls. Other kids in his place might have gone to prison, but he went to college. He had finally developed a love for books after reading To Sir, with Love, opens a new window, a story about an inner-city teacher. He went from Fresno City College, a community college, to California State University at Fresno. He first studied geography but then was inspired by the poetry he read to major in creative writing. His teacher, an accomplished poet named Philip Levine, influenced him with his poetry about working-class people. Gary earned his degree with high honors and went on to earn his masters in fine arts at the University of California's Irvine campus.
He taught for 15 years at the University of California at Berkley until retiring to write full time. Throughout his career, he has won many awards for his poetry and stories. One of his poetry books, A Tale of Sunlight, was nominated for the Pulitzer Prize. He has written successfully for readers of all ages: adults, teens, and children. His writings have inspired another generation of Hispanic writers to show their talent and put the world they know into words.
Gary Soto succeeds in bringing readers into the warm kitchens, onto the dusty, dry baseball fields, and the bully-ruled blacktops of his memories. His rhythms capture the sparse beauty and love of his Chicano childhood while never becoming too sweet to be real. Not every story has a conventional happy ending. Often the pains and small triumphs of his early life are laid bare for the reader to acknowledge in doses that are suitable for each audience.
Books from Gary Soto
Children's author Gary Soto has written both picture books and chapter books. Here are some of his most popular titles.
Chato's Kitchen
To get the "ratoncitos," little mice, who have moved into the barrio to come to his house, Chato the cat prepares all kinds of good food: fajitas, frijoles, salsa, enchiladas, and more


Chato and the Party Animals
Chato decides to throw a "pachanga" for his friend Novio Boy, who has never had a birthday party, but when it is time to party, Novio Boy cannot be found.


If the Shoe Fits
After being teased about his brand new loafers, Rigo puts them away for so long he grows out of them.


Too Many Tamales
Maria tries on her mother's wedding ring while helping make tamales for a Christmas family get-together, but panic ensues when hours later, she realizes the ring is missing.


View more stories and poetry in our collection by Gary Soto for children, teens, and adults.
Gary Soto on the Web
The Official Gary Soto Website
Includes lists of his books and an address where you may write the author.