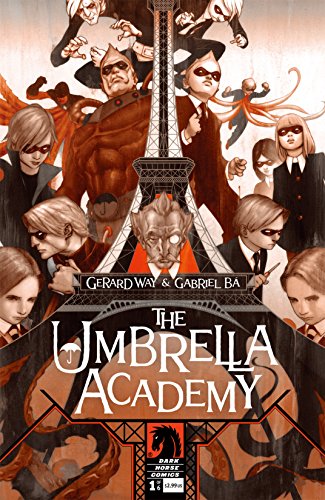 In an inexplicable worldwide event, forty-seven extraordinary children were spontaneously born by women who had previously shown no signs of pregnancy. Millionaire inventor Reginald Hargreeves adopted seven of the children; when asked why, his only explanation was, 'To save the world.' These seven children form The Umbrella Academy, a dysfunctional family of superheroes with bizarre powers. Nearly a decade later, the team disbands, but when Hargreeves unexpectedly dies, these disgruntled siblings reunite just in time to save the world once again.
Apocalypse Suite is volume one; Dallas is volume two; Hotel Oblivion is volume three, released in August 2019.
The Umbrella Academy is an American web television series developed by Steve Blackman for Netflix. It is an adaptation of the comic book series of the same name, created by Gerard Way and Gabriel Bá, and published by Dark Horse Comics. The ensemble cast features Ellen Page, Tom Hopper, David Castañeda, Emmy Raver-Lampman, Robert Sheehan, Aidan Gallagher, and Mary J. Blige. The first season was released on February 15, 2019.
If you're looking for a graphic novel involving a band of misfits, their fantastical life stories, and sometimes saving the world, check out these suggestions.
Casey Brinke is a young EMT, working the graveyard shift with her partner Sam Reynolds, is about to blaze a path through the darkest alleys and blackest hours of the city. The people she finds there - Robotman, Crazy Jane, Negative Man, and Flex Mentallo - will blow your mind. Together, these incredible beings have redefined what it means to be a superhero. Now their power rests in eager new hands.

In Fabletown, where fairy legends live alongside regular New Yorkers, the question that people talk about is who killed Rose Red? But only the Big Bad Wolf can actually solve the case, and along with Rose's sister Snow White, keep the Fabletown community from coming apart at the seams.

Legion is the most powerful and unstable mutant in the world and son to Professor Charles Xavier. Now, following Professor X's tragic death, Legion will finally attempt to tame his fractured mind, conquer his inner demons and embrace his father's legacy.

In the late 1980s, Task Force X or, as their members call it, the Suicide Squad was designed to neutralize super-powered threats to national security was reactivated. Faced with a rising tide of metahuman crime and terror, the program's hard-headed director Amanda Waller has updated Task Force X: a covert action team comprised of incarcerated super-villains who earned time off their sentences for every mission they completed.

The Teen Titans never felt like normal kids, but they had no idea how right they were. Their seemingly idyllic Oregon upbringing hides a secret - one that will bring killers, shamans, and extraterrestrials down on their heads, and force them into an alliance that could shake the planet to its foundations.