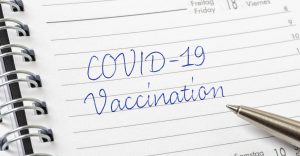 COVID vaccination efforts in CRRL's service area continue to advance rapidly. Both the Rappahannock area (Fredericksburg, Spotsylvania, and Stafford and the Three Rivers area (Westmoreland) have moved to Phase 2 vaccination status. This means that in all counties in our area, any person age 16 or older who wants a vaccine is now eligible to get one. With the entire adult population of our area now vaccine eligible, you may be seeking guidance on how to get yours. This guide will provide you with websites and phone numbers that can help you sign up for your shot and give information on the vaccines available in Virginia. 
Signing Up For Your Shot
Our area does not have "walk-in" vaccination clinics like some larger areas in Virginia, such as Virginia Beach or Henrico County. You will have to pre-register in order to get an appointment for your shot. Virginia has a centralized pre-registration system, Vaccinate Virginia, for its vaccine clinics now; the link to it is available here. 
Mary Washington Healthcare has its own portal that provides a similar questionnaire to the Vaccinate Virginia site. Successfully finishing either will put you on the same state-run pre-registration list. You will then eventually receive an email (or phone call if you didn't give an email address) prompting you when there are slots available in a clinic on a specific day, as well as a link for you to sign up for an available time. Once you get the email or call, respond as quickly as possible and choose your time. 
You may also get the vaccine through CVS or Walgreens by registering on their websites. However, these pharmacies do not draw from the state pre-registration system. All appointment slots for CVS and Walgreens are filled through their own sign-up systems, and not all locations offer the vaccine.
Information on the Different Types of COVID Vaccines
There are three vaccines currently cleared for use in Virginia. They are the Pfizer-BioNTtech vaccine, the Moderna vaccine, and the Johnson & Johnson vaccine. Which one you will receive is based on what is available on a given day. There isn't a way to choose which vaccine you'll get. Pfizer and Moderna are both mRNA vaccines, a new technology that has been developed to fight the COVID virus. According to Johns Hopkins, you cannot get COVID from a COVID vaccine, and the CDC states that mRNA vaccines will not alter your DNA or change you in any way.
These are both two-shot vaccines, and you will typically get your second shot scheduled in the clinic after your first shot. You will need both of either shot to be vaccinated against COVID. You may experience side effects (especially after your second shot) for several hours to a day after your shot, but these will typically not last long and are a sign that the vaccine is working within your body. You may find it useful to take a day off work following your shot, particularly your second shot, so you won't have to deal with the side effects while in your workplace. The Moderna vaccine is cleared for people 18 and older, with possible side effects listed here; the Pfizer vaccine is cleared for people 16 and older, with possible side effects listed here. If you have questions about either vaccine, please check with your doctor.
The Johnson & Johnson vaccine is different from the other two. It is a viral vector vaccine, a slightly older technology than mRNA vaccines. Viral vector vaccines use a highly modified virus to deliver an antigen to another infectious agent. According to the CDC, you cannot get infected by either COVID or the other virus by the Johnson & Johnson vaccine. The single biggest advantage of the Johnson & Johnson vaccine is that it is a single-shot vaccine; once you have received your Johnson & Johnson shot, you will not need another appointment. Use of the Johnson & Johnson vaccine was suspended for several days due to reports of extremely rare blood clots that typically occurred in women under age 50, but it was reauthorized because the chance of these side effects is "very low," according to the CDC. If you have further questions or concerns about the Johnson & Johnson vaccine, please talk to your doctor.


Phone Help for Vaccine Scheduling
If you or a loved one has trouble accessing online resources, you may find it helpful to use a phone number for help in scheduling your vaccination date. The Rappahannock Area Health District offers phone assistance to help seniors schedule their COVID vaccine: (540)-899-4797. Press "0" after you connect, so you will be routed to the local call center. There you will be helped by local staff. This number is for the Rappahannock area (the City of Fredericksburg, as well as Spotsylvania and Stafford counties) only. People in Three Rivers Health District (including Westmoreland County) should instead call 1-877-829-4682. Live operators will be there to help you on both lines. 
There are many people working in our community to help you get vaccinated, and supplies of the vaccines are continuing to increase. By working together, we can help increase our community's vaccination rate and make it a safer place.
---
Please be aware that CRRL cannot provide personal medical advice and can provide general information only. We hope you and your loved ones stay safe and healthy.