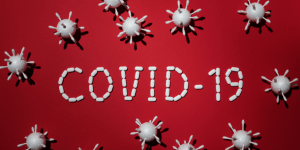 On March 13, 2020, Presidential Proclamation 9994, opens a new window declared a national emergency concerning the coronavirus disease 2019 (COVID-19) pandemic. It wouldn't be until May 11, 2023 that the emergency would expire, signaling a shift towards managing COVID as an ongoing health issue.* 
The emergency years proved to be life-altering, ushering in a host of changes and adaptations in every aspect of society. Libraries were no exception. As Central Rappahannock Regional Library's Access Services librarian, I joined the other librarians in trying to ensure our programs and services remained as accessible as possible while life forced us to revisit our relationship with both the digital and the physical "brick" library, including revisiting how we read.
Like many people, there were stretches of time where I didn't and couldn't read at all, times I spent rereading or totally avoiding childhood favorites, and times where I'd read multiple books at once. It was a lot of variation, to say the very least.
And so as we exit the pandemic emergency years, I thought I'd take a moment to share 14 of my favorite reads from them, listed in the chronological reading order. Each of the 14 is strong in its own way; some helped me process the events going on around me, while others provided hope, inspiration, and guidance at times when I direly needed them. And all are available through our local library!
7/19/2020 The Girl With Ghost Eyes, opens a new window
By that first July, we had entered Phase 3, opens a new window of the state reopening, the past spring feeling both haunting and necessary to confront. The mixed emotions it brought up for me felt a lot like those felt by this story's title character, Li-lin, as she races to prevent an ancient evil from burning 1898 Chinatown down to the ground, making this surprisingly comforting for me to read.

1/28/2021 Because Internet, opens a new window
It was almost one year before I started wanting to read more "new to me" books again, and this was a great way to see how we talk might've changed over our time online, as linguist Gretchen McCulloch explores what the internet shows us about how most people in today's world use emojis, punctuate, and write texts and emails.

3/01/2021 Darius the Great Deserves Better, opens a new window
Darius and his family face bullies, distant friends, depression, and financial hardship realistically in this coming-of-age tale, which was soothing to read as my family neared the one year anniversary of the pandemic's start (which for us dated to March 13 and 16, 2020, when the schools and library closed for what would become Virginia's Stay-at-Home period).

3/11/2021 Paperback Crush, opens a new window
Who didn't have a flashback to better days during these years? For me, this book was a great reminder of the series I saw at the library growing up back when "Young Adult" was really coming into its own. Done in the aesthetic style of the young adult stories it's reviewing, this is a great nostalgic trip for all those 80s and 90s kids and teens among us.

6/13/2021 Cemetery Boys, opens a new window
It may seem strange to read a ghost story in June, but this story - about a teenager name Yadriel who tries to prove he is a brujo to his traditional brujx cemetery community - worked really well for me as I, like many, started having to take chances and make mistakes as we explored life after getting our initial COVID vaccine shots.

8/24/2021 Sixteen Ways to Defend A Walled City, opens a new window
A siege is approaching. The city has no food, no weapons, no army, and no nobility left. What it does have is Orhan, the colonel-in-chief of the Engineers. And while normally I wouldn't recommend siege warfare as a fun read, cheering Orhan on felt a lot like cheering ourselves on after such a long and trying time.

1/14/2022 Some Things I Still Can't Tell You, opens a new window
A new year means new opportunities, but for me it also meant new challenges, as the Omicron variant and the year's opening blizzard hit. It brought about a lot of mixed feelings and emotions so that this debut collection of poems by actor and podcaster Misha Collins resonated with me in its attempts to express feelings and ideas that weren't always able to be expressed.

3/31/2022 Legends & Lattes, opens a new window
Two years in - one year after getting my first round of COVID vaccines. After having safely survived the Omicron variant, I needed a break. That break was this book. With its low stakes and fun characters, I felt so good following Viv the orc barbarian as she left her warrior days behind to come into her own and establish a coffee shop. 

5/8/2022 Autoboyography, opens a new window
Like many librarians I try ,to prepare for June, AKA  Pride Month, by reading a book with LGBTQ+ characters, and, wow, did I love my 2022 choice. The fictional story of Provo, Utah, teen Tanner navigating his changing life while writing a book under the mentorship of local celebrity Sebastian Brother, Autoboyography was powerful, thoughtful, and richly written. 

5/17/2022 Seeing Without Eyes, opens a new window
The unparalleled memoir of Joe Koury, who suddenly started having to plan a whole new life as a blind man at age 19, a plan that included hitchhiking across the entire United States. I had to read this for a library program I helped with, but this tale of surviving immense odds felt very timely for my (by then) vaccinated and boosted self.

5/19/2022 How to Keep House While Drowning, opens a new window
As life started picking up last spring, I found myself going, "Hey, I should take what I've learned from the past two years and get my life in order." This book was perfect for that. Popular therapist and Tiktok star KC Davis draws on her life experience to present a new, gentle way to clean and get organized without self-shame, and, oh, did I benefit from learning it!

7/13/2022 Miss Memory Lane, opens a new window
There's an old joke that the only way you can write a memoir when you're young is to cure cancer or suffer extreme pain. Arrow and Teen Wolf actor Colton Haynes took route #2, and it shows in this brutal, honest, engrossing reflection on his life. Haynes is also not much older than me, which made this more emotionally striking and ultimately cathartic for me, too.

4/21/2023 The Remarkable Retirement of Edna Fisher, opens a new window
2022 ended on a rough note for me, which made this story of Edna, an 83-year-old geriatric who goes to face down dragons armed with knitting needles and a caretaker in tow, perfect. It was a witty, insightful reminder on how to face your (hopefully metaphorical) dragons.

8/14/2023 Witch King
And so, after all the ups and downs, here we are, in a world very much changed from before COVID, still trying to map out how the past several years have shaped the present and will shape our future. For me, this makes Witch King a perfect summation. Told through the eyes of its title character, the Demon Prince Kai, this tale is fantasy but reaches for all the big questions: how do we reconcile our memories? How do we shape our families? And - perhaps most important of all - how do we make sense of all the changes while staying true to ourselves? 

So, there you have it, my pandemic top 14. If you liked this list, visit my My Librarian profile, opens a new window and click "What I'm Reading" at the top to see even more of my reads!
---
*Note: this does not mean COVID is endemic! To be endemic, as defined by the CDC, opens a new window, a disease must have stabilized enough for its baseline or constant presence and/or prevalence in a population within a geographic area to be established. You can see a list of countries where COVID is considered to have become endemic at the World Health Organization, opens a new window.