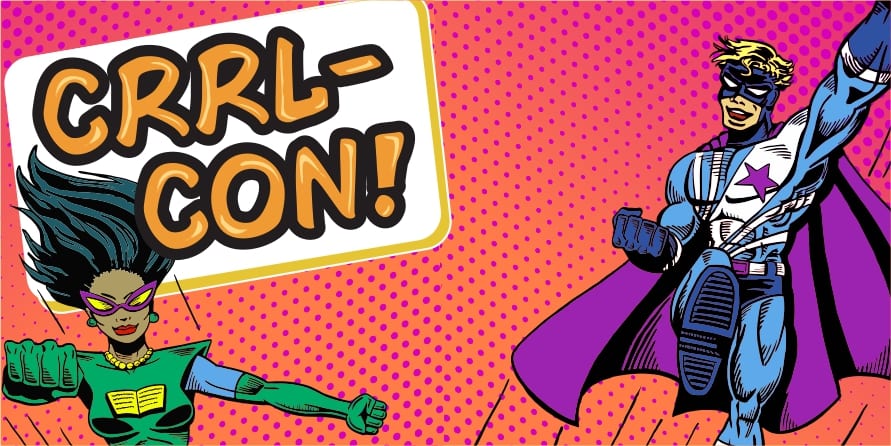 VIRTUAL CRRL-CON: MAY 7, 2022
Don't miss our 8th annual CRRL-Con, online edition! Join us on May 7 for live, virtual programs. Be sure to check out our Vendor Hall, highlighting some of our local vendors. May the force be with you!
---
Throughout May, visit this page for a variety of Marvel-ous activities, games, tutorials, and more to entertain fans of all ages.
---
LIVE Presenters at CRRL-Con on May 7 Starting at 11am!
So You Got a Comic, Now What? with Chris Barcomb, 11-12pm
Join with Google Meet: meet.google.com/xio-afbi-wuq
or join by phone ‪(US) +1 484-402-7212‬ PIN: ‪540 880 285‬#
---
Writing Fantasy, Writing Self: Incorporating the Autobiographical into the Fantastic with Dr. Warren Rochelle, 12:30-1:30pm
Join with Google Meet: meet.google.com/bdu-xuza-iga
or join by phone ‪(US) +1 503-908-2224‬ PIN: ‪417 947 019‬#
Vampires 101 with Jen Furlong, 2-3pm
Join with Google Meet: meet.google.com/uno-cciw-gdb
or join by phone ‪(US) +1 361-459-2467‬ PIN: ‪198 590 592‬#
---
Pop Culture Trivia: Science Fiction, 3:15-4pm
Join with Google Meet at meet.google.com/xyt-pjtf-iau
or join by phone ‪(US) +1 929-238-0676‬ PIN: ‪384 548 813‬#
AIKIDO - The Effective Martial Art of Peace, Live Q&A and Demo, 1-1:30pm
Join via Google Meet: meet.google.com/odc-rgjs-ohf
Teachers and advanced students of Aikido will lead a demonstration of Aikido, the traditional yet non-violent Japanese martial art.
Self-defense techniques will be shown that emphasize peaceful conflict resolution. Enjoy the woosh and click clack of the wooden sword and staff in addition to empty handed-techniques that can foster self-confidence, stress reduction, and cooperation.
You can watch or you can take advantage of this opportunity and try a few stances and moves at home.
Presented by Aikido in Fredericksburg, a non-profit educational organization.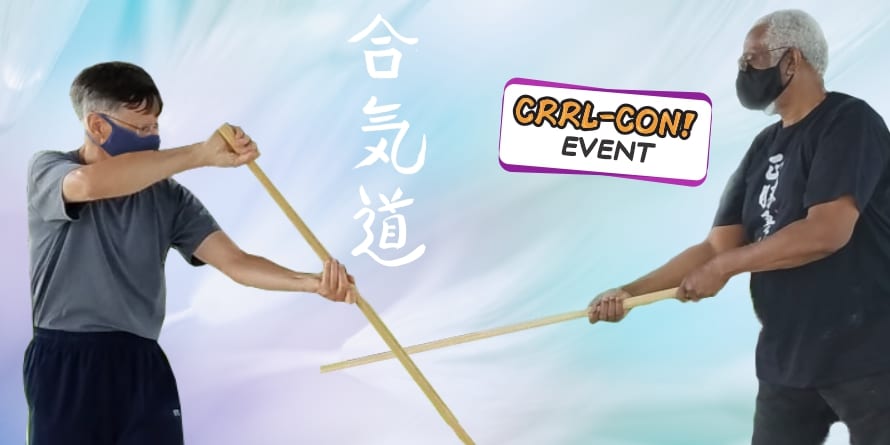 Art Exhibit at Salem Church Branch: May 2 - 28
Visit the Salem Church Branch to see unique and fantastic comic artwork by local artists.
We want to see what fandoms inspire you! You can submit either a short fanfiction story, a piece of fanart or a fandom DIY project, or a cosplay.
Winners will be selected from each category and notified via email. All submissions should be appropriate for all ages so that we can feature it on our CRRL-Con page.
Entries must be submitted by May 25, 2022.
May the Force Be With You
Comic Book Plus
Read and download Golden and Silver Age comic books and a growing selection of comic strips and pulp fiction.
Dark Horse Comics
Read selected issues online: Alter Nation, Battlestar Galactica, Elf Quest, and more.
Europe Comics
European graphic novels and comics.
Library of Congress Webcomics Archive
Webcomics selected  include award-winning comics as well as webcomics that have significance in the field, including work by artists and subjects not traditionally represented in mainstream comics. The content of these websites is captured as it was originally produced and may include content that is not suitable for all ages.
Let's Go to the Renaissance Faire!
Learn Shakespearean English with Mango Languages (Log in with your library card, then search for "Shakespearean English" under languages.)