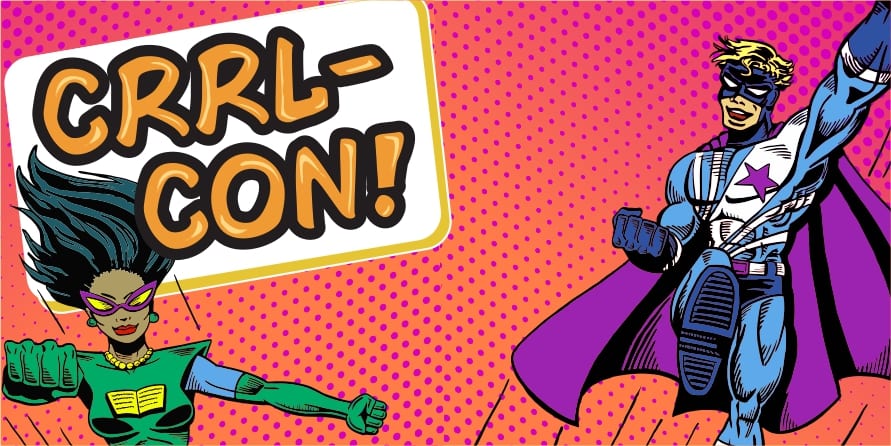 Throughout the month of May, visit this page for a variety of Marvel-ous activities, games, tutorials, and more to entertain fans of all ages. Be sure to check out our Vendor Hall, highlighting some of our local vendors. May the force be with you!
---
Download the CRRL-Con activity pack CRRL-Con activity pack now and stay tuned for physical copies in the branches landing in May.
virtual crrl-con cosplay contest
Contestants can enter as individuals or with a group. Individual contestants will be categorized based on their age or grade. The group category is for all ages.
First place will be awarded to each category. 
---
Categories
Babies - Pre-K

Kindergarten - 5th grade
6th grade - 12th grade
Adults
Group
---
Judges will evaluate costumes based on these criteria:
Overall appearance

Attention to detail
Quality and craftsmanship (if handmade)
For group contestants: Group members that have costumes that match will be ranked above groups that have no cohesive theme. (example: all members dressed as characters from Labyrinth, or all Marvel superheroes)
Submission Rules
All entries into the Cosplay Contest must be submitted by May 31st.
Post a picture of you in your costume on Instagram with the hashtag #CRRLConCosplay2021
For individuals, include in your caption:

First name & last initial
Age category
Character you are dressed as
Bought or homemade costume

For group, include in your caption:

First names
group theme or characters everyone is dressed as
bought or homemade costume.
---
Winners
Winners will be announced on the CRRL-Con webpage and will be messaged by CRRL's Instagram account to get your information to select which branch to pick up your prize!
2021 CRRL-CON Vendors - Art & Comics for Sale
May the Force Be With You
CRRL-Con had gone virtual this year. Join the fun by checking out these eBook comics and graphics novels!
Dark Horse Comics
Read selected issues online: Alter Nation, Battlestar Galactica, Elf Quest, and more.
Europe Comics
European graphic novels and comics.
Library of Congress Webcomics Archive
Webcomics selected  include award-winning comics as well as webcomics that have significance in the field, including work by artists and subjects not traditionally represented in mainstream comics. The content of these websites is captured as it was originally produced and may include content that is not suitable for all ages.
VIZ Media
Read free Shonen Jump manga chapters.
Tokyopop
Read first volumes for free.
Webtoons
An open platform where creators can publish their comics and connect with millions of readers around the world.
Manga 101
Learn some of the terms, check out the recommended websites, and save the titles for later!