This post is part of our Guest Picks series, featuring members of our library community sharing their favorite books and movies.
I live in Fredericksburg with my wife, and I have a Chihuahua and a Brussels griffon. I play in a rock band called Sequels, and I host a podcast called Comic Cons about anything comic book-related where we review comic book movies. I also host a podcast called Real to Really?!? about movies and music videos from the 80s and 90s.
What do comics mean to you?
I've been reading comics since I was a kid. My sister Katie got me into them when we growing up, and, for the longest time, it was part of our special bond. She passed away in 2013 from breast cancer. Even now when I read comics or go through my collection, I feel close to her again like she's reading them with me.
How has podcasting about comics and comic book movies changed your appreciation of them?
It honestly started off as a conversation with my friend Jonathan—who knew next to nothing about any comic book—and the conversations would spiral out of control. It sort of made me realize I'm part of this special world—that only other comic book fans would know about it. It's a special feeling, and the podcast has only bolstered my admiration for all things comic book-related.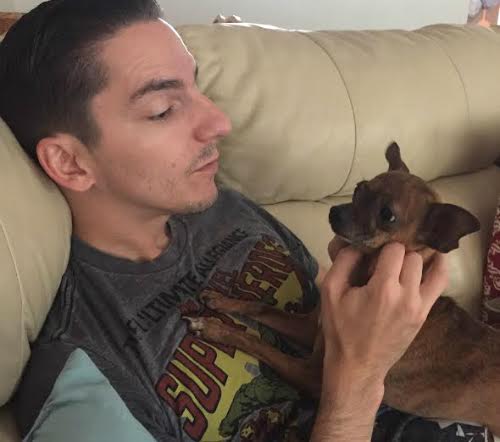 Where do you go, in person or online, to discover new series and projects?
I was going to a shop in town, but I buy a lot online now, too. I like to go to old antique stores, too, and go through really old comics.  
Who is your all-time favorite comic book protagonist and why?
I loved The Punisher even when I was a kid. He just took care of business, and he's brutal. But he's more of an anti-hero, I guess. Logan was always a close second. I've always loved a protagonist with tragic flaws.
Here are my picks of graphic novels and books in the sci-fi genre:
Not really sci-fi, but it's just a creepy, awesome story about an old Goth rocker with a possessed suit. And I just love Joe Hill's writing. Also available in print and as an audio CD.

It's a really funny read, and the way the story is told is unique. The movie was good, but there's a strong connection to Mark Watney's journey in his space logs as you turn each page, and you can laugh while you're held in suspense. Also available in print, on audio CD, and as the movie version.

Hilarious take on pest control service in a world of witches, monsters, and sex-crazed demons. This one is just fun.

This is the best graphic novel series in the Universe. Literally. Star-crossed lovers from warring planets on the run from bounty hunters and a robot empire. It's better than Star Wars.

I have to mention The Sparrow. Even though it is utterly depressing. It is stirring because it is probably too close to home for humanity's sake.

Probably one of the most endearing pieces of post-apocalyptic literature out there. I love Jeff Lemire's writing and world building - and this series made me cry.

Probably one of the first sci-fi books I ever read growing up, and it's still strangely haunting.