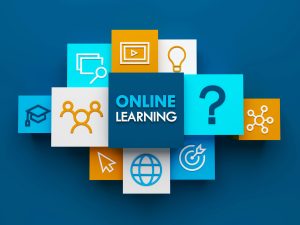 For an increasing number of people, the traditional college experience of a residential campus does not meet their needs. For people who have a full-time or part-time job, a military career, or children, online education can offer greater flexibility and be a better match for them. This article provides links to online courses and colleges and local resources for remote education, so you can find the online college that suits you best.
Getting Started: Online Courses from Community Colleges
Virginia's community colleges offer a number of courses and classes online. In our immediate area, Germanna Community College, opens a new window features several degree programs that can be completed 100% online. You can get an associate degree, opens a new window (roughly two to three years of study) in Liberal Arts, Business Administration, General Studies, Business Management, or Administration of Justice at Germanna. These degrees are typically used to transfer into the third year of a bachelor's degree, and Germanna has reciprocal agreements with several Virginia colleges for this. Certificate programs, opens a new window, unlike associate degrees, are designed to provide specialized education that can quickly lead to a job after completion of the program. Germanna offers a variety of online certificate programs, such as Allied Health Preparation, Legal Assistant, and Accounting.
There are two other important community colleges in our area that offer online courses. Northern Virginia Community College, opens a new window (NVCC) offers some extra associate degrees not available at Germanna, including Cybersecurity, Computer Science, and Information Systems Technology. You may also obtain certificates in Bookkeeping, Early Childhood Development, and Digital Marketing. Rappahannock Community College, opens a new window (RCC) has its own set of associate degrees, notably Sustainable Science, Pre-Engineering, and Psychology/Social Work. RCC also offers certificate programs in Game Design and Development, Web Design, and Administrative Support Technology. 
Going for the Bachelor's Degree
Some Virginia public universities offer bachelor's degree programs online, allowing you to obtain a degree without having to live on campus. Old Dominion University (ODU), a public university, offers an extensive list of bachelor's degrees online, including Economics, Special Education, and Health Services Administration. George Mason University, opens a new window (GMU) features bachelor's degrees in Applied Science, Sociology, Global Affairs, Psychology, and Economics. Virginia Commonwealth University, opens a new window (VCU) has several online bachelor's degrees, including Accounting, Medical Laboratory Sciences, and Mass Communications (Advertising Concentration).
Schools that don't offer bachelor's degree programs online may offer specific graduate and professional degrees, giving you additional options once you've obtained your bachelor's degree. The University of Mary Washington (UMW) has MBA, opens a new window and M. Ed. Initial Teacher Licensure, opens a new window available through online courses. If you're willing to look beyond the Fredericksburg area, you can find a wide selection of online graduate degrees at other Virginia universities. George Mason University, opens a new window offers graduate degrees in Biology, Social Work, and Economics, among others. Radford University, opens a new window features Health Sciences, Literacy Education, and Nursing Administration among its offerings. James Madison University, opens a new window (JMU) has Counseling, Information Security, and several degrees in nursing in its catalog.
Student Guides and Financial Help 
Many colleges with online courses and programs have guides and other resources designed to help the online learner. Germanna has several distance learning resources, including pdfs on 8 Strategies for Success in Online and Hybrid Classes and How to be a Successful Online Learner. NVCC has a dedicated orientation, opens a new window page for its online classes, explaining how its online courses work, technology requirements, student and faculty roles in online learning, and studying strategies. RCC has a set of navigators, opens a new window to help explain how the college's online courses work and what is expected from students.
You may also need to apply for scholarships or other financial aid to attend college. It's recommended that you use a guide as recently published as possible. Some recent guides in our collection are The Guide, opens a new window, 1001 Ways to Pay for College, opens a new window, and Paying for College, opens a new window. Consider applying for student financial aid through FAFSA, opens a new window online, which can connect you with opportunities for grants, opens a new window and scholarships. Avoid taking out money on student loans if possible, as you will have to pay these back with interest, even if you obtain them as federal student loans! Before you apply for any type of financial aid, be sure to read the US News Financial Aid Guide, opens a new window, which explains the steps to applying for financial aid, different types of financial aid, and deadlines for application. 



Additional Resources
CRRL has a shared location, opens a new window at Germanna Community College's Barbara J. Fried Center in Stafford. This branch features many services and databases useful to college students. For example, if you can't find a book for your studies in our collection or your college's, you can use our interlibrary loan, opens a new window service to search libraries near and far to obtain the title you need. Military veterans in need of financial assistance may find VetNow, opens a new window useful; its online tutors can help with using VA benefits and offer tutoring assistance. With this help, you'll be in good shape to plan to make your online education affordable and successful!