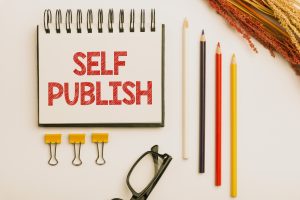 In the past, if an author wanted to publish their work, they had to find a publishing company and sign a contract. Then, the publishing company would do the work of editing, printing, marketing, and distributing the book. Writers whose books were rejected could sign on with a so-called vanity press and pay to have their books printed, but many simply gave up after numerous rejections. 
With the rise of print-on-demand services, eBooks, and technological advances, more and more authors are turning to self-publishing to get their books into the hands of readers. Whether they decide from the start to self-publish or turn to self-publishing as Plan B, there are many options out there if an author wants to share their work with the world. 
What Is Self-Publishing?
Independent authors oversee the entire book-writing, production, and distribution process themselves. They can choose to do everything on their own from start to finish, using only occasional freelance editors and artists to fill in their gaps. Alternatively, they can enlist the services of a company that does some of the work for them, such as editing, printing, distributing, and marketing. 
History
While many consider self-publishing a new phenomenon, it has been around for centuries. Beatrix Potter, Charles Dickens, and Mark Twain all self-published some of their work. More recently, Margaret Atwood, Andy Weir, and Stephen King published their early books to get a start. Occasionally, even established authors founded their own publishing companies in order to have more control over their books. Most authors, however, used traditional publishing companies. 
Between 1996 and 2012, print-on-demand companies were founded, and eBooks were born, irrevocably changing the publishing landscape. These factors allowed authors to access their readers in new ways through print and electronic books. Over the next ten years, the number of indie authors and services exploded due to the rise of Amazon's Kindle books and Kindle Direct Publishing, Ingramspark, social media and online marketing, Amazon's growing influence, and other factors that favored independent creators. 
Options and Opportunities
As of the beginning of 2023, it is estimated that over 300 million self-published books are sold each year. Approximately one third of eBook sales are self-published titles. While digital books are simpler to publish, offering print copies to readers and libraries is much easier due to print-on-demand services and hybrid publishers. 
While only 1% of audiobooks on Audible, opens a new window are self-published, the demand for eAudio continues to grow, making this a place where indie authors are joining the upward sales trend. More authors are learning how to produce self-published audiobooks, and some are even releasing their work as podcast serials to reach the widest possible audience.  
The two companies most used by indie authors are Kindle Direct Publishing, opens a new window and IngramSpark, opens a new window. Companies and platforms to support self-publishing are proliferating, and authors can also publish on Apple Books, opens a new window, Barnes & Noble Press, opens a new window, and Rakuten Kobo, opens a new window. Other possibilities include   Draft2Digital, opens a new window and Wattpad, opens a new window. 
Reasons and Obstacles
With traditional publishing, the final decision about illustrators, book covers, titles, and layouts may be different than the author prefers as the publishing company has the final say. With self-publishing, the author has control over the entire process and can make decisions based on their needs and preferences. 
Although there are upfront costs associated with self-publishing, the royalty percentages are much higher for the author. Royalties can range from 40-70%, depending on your genre and where you publish your work.  
While obstacles such as self-doubt, a desire for outside validation, and a lack of requisite skills may cause some authors to avoid this route, many have enjoyed the challenge of learning the business side of publishing, relished connecting with their readers via social media and webpages, and found support and encouragement from the growing indie author community. 
Process
No matter how you plan to publish your work, the initial stages of writing and self-editing are the same. Once you have a completed draft, the next phase of the work begins. Without a publishing company to assist, you are in charge of finding professional editing, formatting, illustration, and other components needed to create a book. 
Editing is a key component for every writer!  Find some beta readers to gain feedback. Make those changes and then find an editor to look at your work before moving forward. Editing comes in all types and costs. Developmental editing is going to look very different from copy-editing and proofreading. All of these can be useful, especially for new authors who want to build a great product and a loyal readership. 
Depending on which publishing company you have decided upon, you will then need to decide on other details, giving you plenty of room for creativity and control. Make sure you research your options carefully to ensure the companies are legitimate. When possible, get recommendations from authors you know and trust. 
Marketing 
Marketing remains a skill that is necessary for all authors, no matter how their books are published. Building a platform, reaching out to your readers, and learning how to promote your books effectively are skills that all authors must develop if they want to make sales. Developing a personal brand, podcasting, and cultivating email lists all contribute significantly to marketing for authors, and TikTok is a growing platform where many authors sell not only new books but also their backlist titles. 
Networking
Making connections with other writers is a key component of a satisfying writing career and can also save you from making mistakes as you receive advice from others who have gone before you. Whether those connections are found locally, online, or both, building supportive relationships will give you access to wisdom, experience, and encouragement.
CRRL has several opportunities for our local writers to find community, feedback, and advice as they write and publish their work, in whatever capacity. Check out the For Writers page for details on our writers groups and events such as the Local Author Reception, annual Rappahannock Writers' Conference, and the national Indie Author Contest. 
The Virginia Writers Club has a local chapter, Riverside Writers. Online groups can be found in many places–writing journals and websites, social media groups, specific genre organizations, independent author groups, and more. Some podcasts even have fans who meet online to chat about the latest episode or form support groups. 
Resources
If you want to find out more, join us on June 3, 2023, when library staff will be leading a Self-Publishing 101 workshop at Howell Branch for the most up-to-date information on this exciting trend for authors.
---
Publishing your work is an exciting step in the journey for every author who wants to share their words and ideas with others. Local authors are some of our favorite people, and we look forward to seeing a copy of your book in the future.
List created by CRRL_JoyO
Books and media with information for authors on how to publish their work.