If you have already run out of new shows to watch, might I interest you in a whole new area to binge?
(For those familiar with Asian dramas, skip down to the book and TV pairings.)
For those unfamiliar, Asian dramas are television shows or movies made in Asian countries. The three largest producers of dramas are South Korea, China, and Japan. There has also been an increase in shows from Taiwan and Malaysia.
While shows from India could technically fit into this group, they have their own popular style. Most fans consider these shows to fall under the term Bollywood, rather than Asian dramas.
It can be a lot to dive into an entire continent of new content, so perhaps it might be easier to stick with a certain genre or a specific country. If you choose the country route, it is useful to know the slang terms: K-Dramas are from South Korea, C-Dramas are from China, J-Dramas are from Japan, and so on.
Not all shows from Asia fit the term drama. Some are quite dramatic, with soap opera twists or thrilling mysteries, but others are lighthearted comedies. It is not hard to find a genre within Asian dramas that you might like. Many Western streaming services, such as Amazon Prime, Netflix, and Hulu, now offer multiple dramas available for streaming. There are also other legal, free sites to watch dramas, including Viki and Asiancrush. Kanopy also includes free Asian drama movies. Search by language to find selections (example using the language filters for Japanese and Korean)
On an exciting note, a wonderful historical fantasy has made the leap from book to Asian drama: The Ghost Bride, by Yangsze Choo.  While reading the book, I actually thought to myself that it would be perfect to make into a drama. The show, of course, is on the top of my "To- Watch" list!
Book and TV Show Pairings
---
Ghosts, Murder Mystery, and History

Li Lan is the daughter of a genteel but bankrupt family in Malaysia. The wealthy and powerful Lim family want her to become a
ghost bride for the family's only son, who recently died under mysterious circumstances. Such a union would guarantee Li Lan a home for the rest of her days, but at a terrible price. Li Lan finds herself haunted by her ghostly would-be suitor--and her desire for the Lim's handsome new heir, Tian Bai. Night after night, she is drawn into the shadowy parallel world of the Chinese afterlife, with its ghost cities, paper funeral offerings, vengeful spirits, and monstrous bureaucracy—including the mysterious Er Lang, a charming but unpredictable guardian spirit. Li Lan must uncover the Lim family's darkest secrets—and the truth about her own family—before she is trapped in this ghostly world forever.
Pairs with The Ghost Bride on Netflix (Note to those who have already read The Ghost Bride: it looks from the trailer that they have changed some of the plot details, but it does look like a worthwhile watch.)
Of course,  if you would prefer something slightly different, you could also pair the book with Arang and the Magistrate/Tale of Arang (free on Viki).
This time the ghostly mystery is set in historic Korea instead of Malaysia. Arang is a ghost who cannot remember how she died. Kim Eun-oh, the town's new magistrate, has the ability to see and speak to ghosts. Can he help Arang find out what—or who—caused her untimely death and bring her justice? 
---
Murder, Crime, and Mental Health

Yu-jin wakes up to a phone call from his brother asking if everything's all right at home. Yu-jin soon discovers the body of his mother in their duplex. He can't remember much about the night before; having suffered from seizures for most of his life, Yu-jin often has trouble with his memory. Can he figure out who killed her, if he can't even trust his own memory?
Pairs with Children of Nobody (free on Viki)
Woo Kyung works as a child development consultant, but a mysterious case and child upend her life.  The only person she can rely on is Ji Heon, a Violent Crimes Unit detective, who is willing to believe to what she has to say.
And Secret Forest/Stranger (Netflix subscription)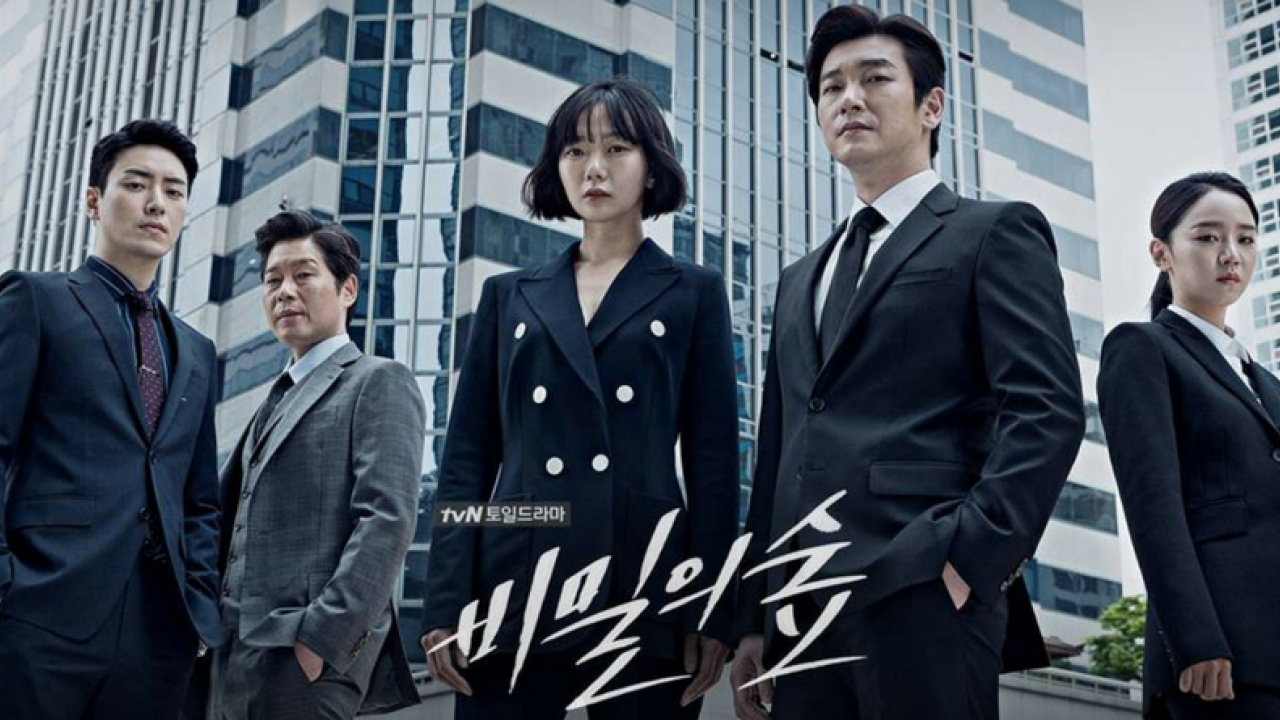 Hwang Si-mok is a prosecutor who suffered from sensitivity to sound, causing him to be aggressive as a child. While the brain surgery took away his suffering, it also caused him to be disconnected from feeling empathy and many emotions. While investigating a serial murder case, he meets police lieutenant Han Yeo-jin, a passionate and warmhearted female detective, who assists him in solving it. Their investigations lead them through twists and turns, causing many around Hwang Si-mok to suspect him to be the killer because of his childhood violence. 
---
Historical Fantasy, Feuding Families, Revenge

Feuding families compete to rule over all of Westeros on the Iron Throne. With political intrigue, traitors, dragons, and threats from beyond the Wall in the North, who will survive, and who climb into power? Will it matter if the land falls into Winter again? 
Pairs with Guardians of the Ancient Oath (free on Viki)
In ancient times, a savage shape-shifting monster roamed the lands. The Five Great Elements agreed to joined forces to lock the monster, Jiuying, away. Jiuying escapes, seeking power and revenge. The young king of the Baili family will stop at nothing to secure his position, even if it means beheading and exiling family members. Consumed by hatred and driven by the desire for revenge, the living Baili siblings set out to take back what is rightfully theirs. Jiuying joins with the Baili siblings. Now in a position of strength, Jiuying begins his own quest to unleash his powers again. Can a family so driven by hate find a way to let go of the past and stop Jiuying before it's too late?
---
Modern Drama, Food, Humor

Envisioning a summer vacation in the humble Singapore home of a boy she hopes to marry, Chinese American Rachel Chu is unexpectedly introduced to a rich and scheming clan that strongly opposes their son's relationship with an American girl.
Pairs with Love Cuisine (free on Viki)
(also included in a Netflix subscription)
Han Jie is a famous chef with a restaurant in Europe. He returns to Taiwan to become a culinary teacher at Si Ping High School as a promise to his former mentor. His cooking style clashes with disciplined Chef Fang Xiao Rou, another culinary teacher at the school. Will these two be able to be able to find romance, or will it be a case of too many cooks in the kitchen?
---
History, Disguises, Humor

A young noblewoman, Viola, shipwrecked in a foreign land and separated from her twin brother, dresses as a man in order to enter the service of Orsino, duke of Illyria. Complications ensue—deceptions, infatuations, misdirected overtures, malevolent pranks—as everyone is drawn into the hilarious confusion.
pairs with Sungkyunkwan Scandal (free on Viki)
In historic Korea, Kim Yoon-hee is smart, with an excellent memory. In a time where many women were not formally educated, Kim Yoon-hee disguises herself as her brother Kim Yoon-shik so she can make money to take care of her mother and sick brother. Eventually, she gets a chance to become a scholar at Sungkyunkwan, a prestigious academic institute. There, she has to deal with rich bullies, political intrigue, trying to excel in her academics—and keep her identity a secret from everyone, including a classmate for whom she is beginning to have feelings.
---
Modern Drama, Supernatural, Life or Death 

Gu Miyoung is a gumiho, a nine-tailed fox who must devour the energy of men in order to survive. After feeding during one full moon, Miyoung crosses paths with Jihoon, a human boy, being attacked deep in the forest. She violates the rules of survival to rescue the boy, losing her fox bead—her gumiho soul—in the process. Jihoon saw her nine tails, but he's drawn to her anyway. Their tenuous friendship blossoms into something more...until a young shaman tries to reunite Miyoung with her bead. Now, Miyoung must choose between her immortal life—and Jihoon's.
Pairs with Guardian / Goblin (free on Viki)
(also included in an Amazon Prime subscription)
Is it better to live forever or to finally be able to die? Kim Shin was once human but has been turned into an immortal goblin tasked to protect certain people from misery. Kim Shin longs to find the prophesied human bride who can set his soul free. Ji Eun Tak is able communicate with the dead and supernatural beings. Could Ji Eun Tak be the true "goblin bride" with the power to release Kim Shin from his eternal misery? 
---
Hopefully, one of these books or shows has interested you. If not, the video-streaming websites that I mentioned at the beginning of the post have hundreds more shows and movies waiting for you to find them!