By The Fredericksburg Area Tourism Department
WASHINGTON AVENUE WEST
1200 - Built in 1916/ 1917 for Victor & M.C. Moon, traveling salesman. Architect, Philip Stern. Brick, showing modern and oriental infuence, quality work with early tile roof and copper drains.
1204 - Built in 1903 for J. McCalla Boulware, owner of Boulware & Sons, feed and grain business. Queen Anne Victorian Classical style. Note turned spindle decoration in attic cross gables and detailing of wraparound porch.
1206 - Built in 1906 by E.J.Cartwright and sold in 1907 to Mrs. Augusta (Eugene) Bode. Architect/ Builder, E. G. "Peck" Heflin. Local granite used from Cartwright & Davis Quarry. Chateau Victorian Style. The castellated effect is emphasized by the tower and dormers with their elaborate iron decoration.
1208 - Built 1896/1897 for Samuel W. Somerville, President of the Fredericksburg College, President of the Fredericksburg Spoke Works and Member of City Council. Originally frame. Remodeled by Frederick Feuerherd in 1920's with a European flavor added by stuccoing and porch arcade. Mr. Feuerherd was the owner of a confectionery store on Caroline Street.
1300 - Built 1904 for Dr. J. Edward Tompkins for his mother, Mrs. Mary Tompkins, a milliner who owned a hat shop. The 1904 tax records give the value of the house as $350. Builder, Frank Stearns. Combination of Queen Anne Victorian, Colonial Revival and Shingles style. Colonial gambrel roof, upper windows with diamond panes, and circular bay window.
1302 - Built in 1907 for D. Jackson Boulware, partner with father, J. M. Boulware, in Boulware & Sons, feed & grain business. This Colonial Revival house reflects the long life of the simple gable roofed house in American architecture tradition. Note the variation of the dentil work.
1304 - Build in 1911/1912 for George W. Shepherd, bank president and civic leader. Architect, Philip Stern. Builder, Frank Stearns. Brick. Racked brick joints and patterned chimney tops are modern details on a very grand Colonial Revival style house. Note that window lintels and keystone, parch columns and other details are stone and cast stone.
1306 - Built in 1898 for W. N. Blake of Fredericksburg Milling Company. Simple Queen Anne Victorian style. Only house on Washington Avenue enriched by patterned siding.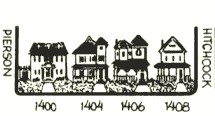 1400 - Built in 1925 for J. B. Rawlings. Builder and designer Frank P. Stearns. Colonial Revival style. Alternating triangular and rounded dormer roofs reflect a Renaissance architectural idea. Note the handsome brick steps.
1404 - Built in 1896 for W. A. Bell, founder of Bell's Furniture. Simple Queen Anne Victorian style with three story tower.
1406 - Built in 1898 for Miss Sarah Cole, later Mrs. W. L. Brannon. Miss Cole was daughter of Colonel & Mrs. E. D. Cole. Builder, Frank Stearns. Queen Anne Victorian style. A later Classical style porch has been replaced with the original traditional style. Note two story bay and stained glass over door window.
1408 - Built c.1897 for Colonel E. D. Cole, owner of E.D.Cole Coal & Lumber Store, a real estate developer and community leader. Simple Queen Anne Victorian style. Note gable with interplay of two patterns of shingles and colored glass accents of attic window borders.
WASHINGTON AVENUE EAST
1301 - Built in 1890 for W. T. Mills. Simplified Queen Anne Victorian style with patterned shingles and decorative woodwork in gable.
1303 - Built in 1896 by W. T. Mills. Late Victorian style with echo of Italianate house. Note the elaborate porch trim, eave brackets and patterning of chimney top.
1305 - Built c. 1909 for Charles W. Edrington, City Sergeant. Built by E. G. "Peck" Heflin. Queen Anne Victorian and Colonial Revival style. Note elaboration of pattern in upper windows in gable and dormer.
1307 - Built in 1911 for J. Conway Chichester, City Sergeant. Architect, J. Philip Stern. Craftsman style. Broad and horizontal porch with very "artistic" railings. Note patterning of window panes in upper sash of windows.
1309 - Built in 1906 by E. D. Cole and sold in 1906 to Joseph "Jake" Goldsmith, owner of Goldsmith's Clothing Store. In 1920 Florence Dickinson Stearns, Poet and Honorary President of Virginia Poetry Society, and wife of Franklin Stearns, grain dealer, bought the house. Queen Anne Victorian and Colonial Revival style with fan patterned window over front door and attic gable.
1311- Built in 1904 for A. P. Rowe, Manager of the Free Lance Star Publishing Company & collector of City taxes. Builder, E. G. "Peck" Heflin. More elaborate version of Queen Anne Victorian and Colonial themes with rich brackets of various sizes.
1401 - Built in 1908 for Granville R. Swift, Lawyer and partner in real estate with E. D. Cole, also delegate from area to Virginia Legislature and was Fredericksburg Commonwealth's Attorney. Queen Anne Victorian and Colonial Revival style blend with wraparound porch.
1403 - Built 1906 for Mrs. Suzie B. Saunders, widow of Alexander P. Saunders who was the first president of Fredericksburg College and the minister of the Presbyterian Church. Simple Queen Anne Victorian style with decorative shingles, dentils and Colonial Revival style details.
1405 - Built 1896 by J. A. Taylor, Trustee for Mrs.J.Horace Lacy, formerly of "Chatham", who lived here with her daughter. Her daughter, Miss Sally Lacy, in 1910 went to China and served as a Presbyterian missionary for 17 years. In 1913 the house was bought by Mrs. Mary Eckenrode. Her son, Dr. Hamilton James Eckenrode, Jr., was a noted author and became Historian for the State of Virginia and the Virginia State Archivist. He was responsible for the installation of the State Highway Historical Markers. Simple Queen Anne Victorian style with decorative shingling in gable ends. Note decorative glass transom above door.
1407 - Built c.1908 by E. D. Cole and sold to Rev. R. Aubrey Williams, Minister of the Fredericksburg Baptist Church from 1904-1916. Owned by Richard C. L. Moncure from 1916 to 1927. Mrs. John Lee Pratt of "Chatham" was the next owner until her death in 1947. This mixture of Queen Anne Victorian and Colonial Revival style has double bay windows on front, triple dormer and uses two story corner pilasters.
1409 - Built in 1951 for Miss Lucille Massey. Land has belonged to the Trustees of St. George's Church. Georgian Revival style.
1411 - Built in 1909 for William "Buck" Peden. Built by Frank Stearns. Classic Queen Anne Victorian style. The original house on the lot was built in 1890. It was the first house built after Kenmore and was owned by W. Seymour White, Lawyer, Newspaper Editor and Mayor. The 1890 house was moved in 1909 to 1308 Winchester Street, but the kitchen building was used by the Pedens. Mr. Peden was a lumber dealer and pickle manufacturer. His new house was built of cypress and oak. The house remained in the Peden family from 1909 to 1974. President Cleveland was entertained in the S. Seymour White house after the dedication of the Mary Washington Monument in 1894. When President Eisenhower visited the Mary Washington Monument in 1954, the Secret Service used the Peden house as a primary observation center.
620 LEWIS STREET
Local contractor Frank Stearns built this stucco house in 1928 for E. M. Curtis. Of note are the pagoda-like porch, eye-lash dormers and triple windows. This house shows the influence of American and European architectural ideals of the 20th Century.
WASHINGTON AVENUE
This residential neighborhood was once part of the 863-acre Kenmore Plantation. For years the only house was the Lewis mansion which was built in 1752. Located on the plantation and not far from the Lewis home was a ledge of rocks looking westward over a small valley. This was a favorite spot of Mary Washington, mother of Betty Washington Lewis, and she asked to be buried there. In 1833 a monument to Mary Washington at her gravesite was partially built, but was not completed. In 1851 the town of Fredericksburg expanded its boundaries to include this area. Until 1889 the "Kenmore Plain" was only open farmland with the Lewis house and the unfinished monument.
Two events happened that were to change the character of "Kenmore Plain". One event was the advertisement in February 1889 of the auction sale of Mary Washington's grave and the other event was the chartering in 1890 of the Fredericksburg Development Company. The uproar created by the proposed sale of Mary Washington's grave caused a movement to buy the grave site and to renew efforts to complete or rebuild a new monument to Mary Washington. The women of the nation were urged to unite and save the grave site.
The Fredericksburg Development Company bought part of the Kenmore tract on the west side opposite the Lewis house between the cemetery and Mary Washington grave and subdivided the tract into lots. By 1900 ten new houses were built facing the newly created Washington Avenue. Fourteen more houses were built on the Avenue by 1917. One house was built in 1925 and the last, in 1951.
In 1891 the Fredericksburg Town Council at the request of the National Mary Washington Monument Association approved plans for a 150-foot wide avenue with a parallel roadway and center grass plot to extend from Lewis Street to the Mary Washington grave and the new street was appropriately named Mary Washington Avenue. Over the years the name was shortened to Washington Avenue.
Monuments and Special Points of Interest along Washington Avenue
Kenmore
Built in 1752 for Betty Washington Lewis, wife of Colonel Fielding Lewis and sister of General George Washington, the house is an outstanding example of mid-eighteenth century Tidewater Virginia architecture and renowned for its ornate plasterwork ceilings. Colonel Fielding Lewis was appointed by the Virginia Convention of 1775 as a Commissioner, with others, "to form, establish and conduct a manufactory of small arms at Fredericksburg". The kitchen and office dependencies were reconstructed during the 1920's and the Crowninshield Museum was built in 1975.
In 1922 a developer bought Kenmore with plans to demolish the house or convert it into apartments and subdivide the remaining two acres of land. The women of Fredericksburg once again organized and mobilized their energies to save and preserve another historic site. Just as was required of them in 1867 to establish the Confederate Cemetery, in 1889 to build the Mary Washington Monument, in 1897 to spearhead the drive for the first hospital in Fredericksburg, and in 1890 to prevent the Mary Washington House from being sold and transported to Chicago World's Fair, the women of Fredericksburg successfully raised the necessary funds to buy the property and the Kenmore Association was formed. In 1929 the Garden Club of Virginia was asked to restore the Kenmore Gardens. From this effort Historic Garden Week in Virginia was born.
George Rogers Clark Memorial
George Rogers Clark was born in 1752 in Albemarle County. When he was five, his parents, John and Ann Clark, moved to a family farm in Caroline County where they lived for twenty-five years before moving to Kentucky. George Rogers Clark was trained as a surveyor and at the age of twenty left home to explore Kentucky and the Ohio River area. During the Revolution Clark rose to the rank of General in the Virginia militia.
A stone with a bronze tablet is erected on Washington Avenue to George Rogers Clark, explorer and conqueror of the Northwest Territory. It is inscribed: "In grateful acknowledgement of the valor and the strategic victory of General George Rogers Clark, son of old Virginia, the Paul Revere Chapter, Daughters of the American Revolution, of Muncie, Indiana, devote this tablet. No hero of the American Revolution served with more sacrifice, fortitude, and dauntless courage, and no hero has accomplished greater victories against greater odds. The Northwest owes its freedom from the British tyranny to this distinguished patriot and soldier. Dedicated April, 1929."
General Hugh Mercer Monument
This statue of General Mercer was erected in 1906 by the United States Government. The sculptor was Edward Valentine of Richmond who did the famous reclining statue of Robert E. Lee at Washington Lee University.
Mercer was a General in the Revolution and was killed at the Battle of Princeton in 1777. He was a doctor who fled Scotland after the Battle of Culloden, where he had supported the Stuart cause. He came to Pennsylvania where he met Colonel George Washington during the French and Indian War. Mercer moved to Fredericksburg on Washington's advice to practice medicine and operate an apothecary shop.
General George S. Patton of World War II fame is a great, great, great grandson of Hugh Mercer.
Christian Church
In 1833 the Christian Church was founded in Fredericksburg and that year erected their first church building at 1115 Caroline Street. When the Civil War started, the church disbanded, and its church building was used as a hospital. In 1897 the Christian Church reorganized and remodeled their original building. Over the years the building on Caroline Street became inadequate for the church's needs. In 1962, land was purchased at the corner of Washington Avenue and Pitt Street and the present church building constructed. An addition was built in 1983.
Thomas Jefferson Religious Freedom Monument
This monument to religious liberty was unveiled in a public ceremony on October 16, 1932. Representatives of sixteen of the leading denominations in the United States participated in the commemoration. This monument was moved from its original site on George Street in 1977.
It was here in Fredericksburg on January 13, 1777, that Thomas Jefferson met with his committee, George Mason, Edmond Pendleton, George Wythe and Thomas Ludwell Lee, to draft the Virginia Statute for Religious Freedom. This famous bill established the principle that "no man shall suffer on account of his religious opinions or beliefs. "This Virginia statute was later incorporated into the United States Constitution as the First Amendment of the Bill of Rights.
Annually at the site of this monument on January 13, the City of Fredericksburg pays homage to Thomas Jefferson and his farsightedness to give each Virginian and each American his religious freedom. Jefferson considered this statute drafted in Fredericksburg to be one of the three major accomplishments of his life along with the Declaration of Independence and the establishment of the University of Virginia.
Mary Washington Monument and Meditation Rock
Mary Ball was born at "Epping Forest", Lancaster County, Virginia (1708-1789), and married Captain Augustine Washington on March 6, 1731. They became the parents of four sons and two daughters: George, Samuel, John Augustine, Charles, Betty and Mildred (who died in infancy).
In 1772 Mary Washington moved from "Ferry Farm" to a house in Fredericksburg bought by her son, George Washington. She often came to this spot to meditate and to pray and requested that she be buried here. Mary Washington died in 1789 and her grave went unmarked for many years. In 1833, Silas Burrows, a wealthy New York merchant, agreed to pay for a monument for Mary Washington's grave and President Jackson laid the cornerstone. Financial reverses prevented Mr. Burrows from finishing the monument and the shaft was never mounted on the base. In 1889, the centennial year of Mary Washington's death, a group was chartered with the goal of erecting a new monument. The National Mary Washington Memorial Association erected the present monument and on May 10, 1894, it was dedicated. President Grover Cleveland was the honored guest and main speaker. Vice President Adlai E. Stevenson, the Governor of Virginia and other dignitaries were present.
Located behind the Mary Washington Monument is the Gordon family cemetery. The Gordons were 19th-century owners of Kenmore.
1500 Washington Avenue
Built c.1896 for the National Mary Washington Monument Association for museum and caretaker's home. The first residents of the "Lodge" were Judge and Mrs. John T. Goolrick. Mrs. Goolrick was custodian of the lodge. Judge Goolrick was Judge of the Corporation Court of Fredericksburg for many years. He was one of the town's prominent citizens known for his oratory skills, and author of a history of Fredericksburg and biography of Hugh Mercer. In 1966 this property and the adjoining Mary Washington Monument were deeded to the City of Fredericksburg. Since 1979 the Kenmore Association has leased this building from the City. Built of local granite. Reflects playful mixing of Romanesque, Queen Anne Victorian and Colonial elements of the great American architect H. H. Richardson and the firm of McKim, Mead and White. Red mortar reflects use of colored mortars in the period around 1900.
Fredericksburg's City Cemetery and Confederate Cemetery
The brick wall encloses two cemeteries. Upon entering the handsome iron gates, the cemetery on the left is the City Cemetery founded in 1844 by the Fredericksburg Cemetery Company. The cemetery on the right is the Confederate Cemetery located on land purchased in 1867 by the Ladies' Memorial Association as a suitable place to reinter the hundreds of Confederate soldiers killed and hastily buried on the area battlefields during one of the earliest Memorial Day services in the country in this cemetery. Each year the Ladies' Memorial Association decorates the graves of the Confederate soldiers with flags as part of a Memorial Day program. The impressive monument in the Confederate Cemetery was dedicated in 1884 "To the Confederate Dead". It has a granite base and life-size bronze statue of a Confederate soldier on dress parade.
The Federal soldiers killed in the area during the Civil War are reinterred in the Fredericksburg National Cemetery (located on Marye's Heights) which was established in 1865 by the United States Government.
Five Confederate Generals are buried in the cemetery along with numerous other Confederate Veterans. One of the more interesting veterans buried here is Lucy Ann Cox who accompanied her Confederate soldier husband for four years and was made an honorary Confederate Veteran. Her tombstone reads "A sharer of the toils, dangers and privations of the 30th Va. Infy. C.S.A. from 1861-1865".
---
Research and text by Barbara P. Willis and John N. Pearce.