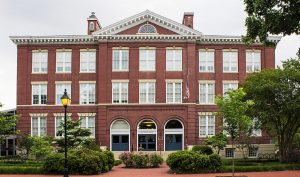 Fredericksburg Branch is getting a major reorganization which will open up new areas of the building to the public, make the collection more accessible, and bring attractive upgrades to shelving.
Once the renovations are complete, the first floor will house adult fiction, and be devoted to the highest-circulating parts of the collection, including new books, hot genres, and DVDs. Customers looking for the most popular materials will be able to find them even more easily. Adult materials will have been moved off of the second floor, which will be devoted entirely to youth services. Attractive new shelves will be installed on the first and third floors. New shelving will be installed on the second floor in the fall.
The third floor will house adult nonfiction and study rooms, and will be opened up to the public sometime in April. This will be the first time in the history of CRRL that the third floor of Fredericksburg Branch will be a public browsing, studying, and meeting space.
There will be some necessary customer service interruptions:
The adult collections will be closed through April 3. A small selection of titles, including new releases, will still be available.
The second floor youth services collection rooms will not be closed for this project.