Faith Ringgold is an artist who uses different materials to tell the stories that are important to her family and her people. Whether working with quilting squares, African masks, paint & brush, or her own words, Faith gives the rich colors and textures a life of their own. There's motion in her work, a striving upward and pushing at the edges of her world.
Growing up on Sugar Hill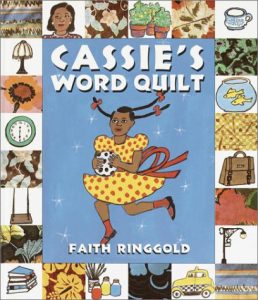 She was raised in 1940s New York City, in an African-American neighborhood called Sugar Hill in Harlem. Her family didn't have a lot of money, but there was enough to feed and clothe Faith, her brother Andrew, and her sister, Barbara--just not a lot for extras. Their mother, Willi Posey Jones, was an excellent seamstress. She sewed stylish clothes for her daughters and eventually made a living as a fashion designer.
Faith had asthma as a little girl which affected her life in several ways. She had to go for regular hospital visits so she missed early schooling. While other kids were spending their time in kindergarten and first grade, Faith was resting at home, learning to love drawing. Because Faith needed a special diet of lean meats and vegetables, the rest of the family ate healthier, too.
She became the class artist in school and was asked in second grade to copy a scene onto a huge mural. In the original picture, George Washington's troops fed some ragged black boys watermelon. When she told her mother about it, Mrs. Jones informed the teacher that black men had fought in the American Revolution, too, and, after all, didn't everybody like watermelon? So, in Faith's mural, some of the boys were white, and some of them were black, but they all enjoyed the watermelon.
Prejudice and racism were everywhere, and Faith certainly didn't escape its effects. Most of her white teachers at public school decided that their black students were shiftless, lazy, and happy-go-lucky. Dr. Bernath, her principal, was an exception. He gave Faith and her best friend special responsibilities, and when they graduated he told the girls to select two books each from his personal library.
Sugar Hill was a hub of the black middle class, and many famous entertainers-Marian Anderson, Duke Ellington, Willie Mays, and Harry Belafonte-made their homes there. All the while that Faith was growing up, her mother would tell her children how they should make contributions to society, and the way to do that was to get a college education.
She went to City College where she studied art. Some of her professors were terrific, but others tried to discourage her from becoming an artist. Yet she persevered. Years later, when she came back to City College to receive an honorary doctorate in fine arts, she decided not to mention her problems there in her speech, but instead gave them some advice:
"The harder you work, the more talented you will become because your talent can only be defined by you."
She joined the up-and-coming radical art scene in New York. Once again, she faced prejudice, but this time it was from galleries who refused to give exhibit space to artists who were black or female. She and her group, Women Students and Artists for Black Art Liberation, held sit-ins and other public demonstrations. Many of her paintings from that time showed her anger with society.
Teaching and Learning
For several years in the 1960s and 1970s, Faith Ringgold taught art in the New York City public school system, at Wagner College and Bank Street College of Education. It was challenging work and sometimes discouraging. At college, she taught her students African art, specifically art forms that were traditionally done by women: jewelry, clothing, beadwork, and dolls.
She developed her own art in three-dimensional forms: soft sculpture, masks, and story quilts. Faith took her masks and clothing with her on the road, giving performances where she combined her stories of struggle with her art.
Old Art/New Art
Faith and her mother stayed very close through the years. When Faith switched her focus to sewn arts, she and her mother worked side-by-side. In this way they were continuing a family tradition that stretched back through the centuries, for Faith's great-grandmother, Susie Shannon, had sewn quilts when she was a slave.
Stories for Children
Faith Ringgold's story quilts are more than just a collection of bright fabrics in a pretty design. Faith's quilts have something to say for themselves.
Readers are fortunate that several of her quilts have been turned into books. Tar Beach, a remembrance of childhood summer nights spent on rooftops in Harlem, was a Caldecott Honor Book and won the Coretta Scott King Award. Aunt Harriet's Underground Railroad in the Sky brings back the characters Be Be and Cassie from Tar Beach. Their soaring dreams on Tar Beach keep right on going when they hop a ride on Harriet Tubman's Underground Railroad. With Aunt Harriet's guidance, they follow the North Star and experience what it was like to be runaway slaves.
Dinner at Aunt Connie's House was based on a piece called The Dinner Quilt. Young Lonnie and Melody explore Aunt Connie's attic just before dinnertime. They find their aunt's paintings of Rosa Parks, Fannie Lou Hamer, Mary McLeod Bethune, Augusta Savage, Dorothy Dandridge, Zora Neale Hurston, Maria W. Stewart, Bessie Smith, and other famous black women. Each tells a little bit of her story to the children, and those stories become part of the family's traditions.
Click here for a complete list of works for children by Faith Ringgold that are owned by Central Rappahannock Regional Library.
Biographies of Faith Ringgold
These biographies are available from the Central Rappahannock Regional Library. Click on any title to go to its record in the catalog. From there you may place the book on reserve.
Faith Ringgold by Mike Venezia.
A biography of the artist for young readers. Author/artist Mike Venezia provides cartoon-style illustrations to complement his easy-to-read text and full-color reproductions of the master's artwork. Perfect for art appreciation studies 
Inspirations: Stories about Women Artists by Leslie Sills.
Faith Ringgold is one of four women whose art is discussed.
Talking to Faith Ringgold by Faith Ringgold, Linda Freeman
A book that urges the reader to ask questions and think about her art as it tells the story of her life and work.
Books for Mature Readers
Dancing at the Louvre: Faith Ringgold's French Collection and Other Story Quilts.
In this quilt, a young black woman struggles to find herself and her artistic destiny in Paris.
We Flew Over the Bridge: The Memoirs of Faith Ringgold.
An autobiography, written for adults, that is sometimes gritty and raw but ever hopeful.
On the Web
Faith Ringgold: Official Site
Her official site has her biography, a timeline, links to reproductions of her works, a story about color blindness that is appropriate for young ones, and more.
Faith Ringgold on Creating a Tar Beach Story Quilt
In this video, slightly longer than 3 minutes, Faith talks about creating the inspirational quilt that goes with the famous children's book.
These articles are available to our patrons from our Biography Resource Center database.
"Faith Ringgold," in St. James Guide to Black Artists. St. James Press, 1997. (A concise summary of the artist's work, with lists of works and exhibitions.)
"Faith Ringgold," in Authors and Artists for Young Adults. Vol. 19. Gale Research, 1996. (An in-depth profile of the individual's contributions to young adult literature.)
"Faith Ringgold" in Major Authors and Illustrators for Children and Young Adults, 2nd ed., 8 vols. Gale Group, 2002.
"Faith Ringgold" in St. James Guide to Children's Writers, 5th ed. St. James Press, 1999.