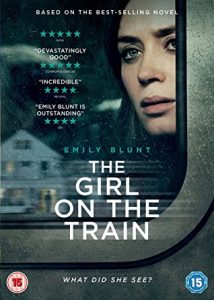 Every day, Rachel takes the same London commuter train and passes the same suburban scenery, yet one house catches her eye - mainly because of the married couple she glimpses living there. This leads Rachel to conjure up an entire dream life for this husband and wife, even naming them and giving them make-believe careers. Rachel's life has been spiraling downward, and her fantasy about this couple gives her a little joy. But all is not what it seems, and Rachel is soon embroiled in a murderous thriller. 
The Girl on the Train is a 2016 American mystery thriller drama film. The film stars Emily Blunt, Rebecca Ferguson, Haley Bennett, Justin Theroux, Luke Evans, Allison Janney, Édgar Ramírez and Lisa Kudrow. The film was a box office success, grossing $173 million worldwide but received mixed reviews. Blunt's performance received praise and gained a nomination at the 23rd Screen Actors Guild Awards, as well as a nomination for BAFTA Award for Best Actress in a Leading Role at the 70th British Academy Film Awards.
If you enjoyed The Girl on the Train, you may like the following novels.