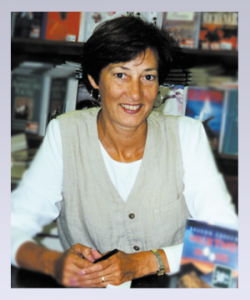 Award-winning author Sharon Creech wove a lot of her own life into her books for young adults, including her first one, Absolutely Normal Chaos. Written as a journal as are many of her novels, what strikes a reader immediately are her humor and casual way of storytelling. Everything is told offhand as if it doesn't really matter - just a 13-year-old chattering. Until what happens does matter and things get serious. That's when readers are grateful for the humor, and having a strong if a strange family really becomes important.
A Newbery Medal Brings Controversy
"I don't see Salamanca as a Native American; I see her as an American, who, like me, has inherited several cultures, and who tries to sort out who she is by embracing the mystery of one strand of that heritage. Salamanca needs those stories of reincarnation; they give her hope." (From Sharon Creech's Newbery acceptance speech)
During her growing-up years in Ohio, Sharon heard from somebody that she was part Native American. She embraced this new identity completely, and it changed the way she looked at things and thought of herself. She studied Native American ways and folklore, making them a part of who she was. Her second book for young adults, Walk Two Moons, has a lead character who also has Native American heritage. Her name is Salamanca, but most call her Sal.
Salamanca Tree Hiddle's life has been turned upside-down lately and not in a good way like hanging upside-down from a tree swing on a breezy day. So a trip with her beloved but nutty grandparents from Ohio to Idaho to see her mother, who left both Sal and her father, is a welcome get-away even though she is afraid of what she will find at the end of the road. Sal's point of view, like that of the author at the same age, is informed by the culture she's embraced. It's comforting to her and interwoven in the narrative to make what could have been a raggedy, sorrowful tale into something that is beautiful and ultimately uplifting.
Walk Two Moons won the Newbery Medal, but some critics perceived her as being an author from outside a culture who dared to write about it and commented bitterly. Others came to her defense.* Ultimately, readers are the ones who will decide whether the book is generous and genuine in its portrayal of these cultural facets in the service of a strong and moving story.
The Wanderer Voyages Far
Sharon Creech has written many excellent books, including picture books for younger children, and one must-read is another young adult novel entitled The Wanderer. Thirteen-year-old Sophie, a bright and inquisitive girl, lives in the moment and is drawn to the sea. She's studied it and longs for it with an aching that goes further back than she can remember.
This summer, she is invited to join her cousins and uncles on a transatlantic voyage from New England to Old England. It takes weeks to get the sailboat ready, but Sophie doesn't mind. Everything is interesting and new to her. Those weeks are also a chance to get to know her relatives better. There's her handsome, seemingly goofy cousin Cody - who is also keeping a journal; her very squared-away and kind of bossy cousin Brian; and three uncles who sometimes feud with the kids and each other.
Once it's time to leave, it quickly becomes clear that The Wanderer is a small boat, the Atlantic is a big ocean, and everybody is dealing with problems that didn't surface back on land—especially Sophie who has a deeper secret than anyone. When the waves, the wind, and the water become one in the middle of the Atlantic and every modern way of communicating shuts down, they must rely on each other even if they sometimes can't stand each other, making The Wanderer, a Newbery Honor book, a survival story in more than just the usual way. 
Sharon Creech's books are works to be savored. They are heartfelt without being maudlin and explore hard issues in ways that are sensitive and sincere.  There are surprises and revelations, but she never goes for sheer shock value. If they're there - and they usually are - they're part of the larger story that has a greater meaning.
Fast Facts
Born: July 29, 1945 in South Euclid, Ohio, daughter of Ann and Arvel Creech
Education: Hiram College, B.A.; George Mason University, M.A.
Married: divorced from her first husband, and then married Lyle D. Rigg (a school headmaster) in 1982.
Children: Rob, Karen
Email: creechauthor@gmail.com
Facebook: https://www.facebook.com/sharon.creech
Website: http://www.sharoncreech.com/
Selected awards: School Library Journal Best Books designation, American Library Association Notable Children's Book designation, U.K. Reading Association Award, Newbery Medal for Walk Two Moons; Christopher Award and Newbery Honor Book designation for The Wanderer; Runner-up for the Carnegie Medal for Love That Dog; Carnegie Medal and Rebecca Caudill Young Readers' Book Award, second place, for Ruby Holler.
Her latest book: As of this writing, Sharon's latest book is Moo - about a young girl who moves with her family to the countryside of Maine from a city. Twelve-year-old Reena is thinking lobster and beaches and blueberries. She does not expect to have to deal with an ornery cow named Zora and her equally ornery owner, Mrs. Falala.
Check Out Sharon Creech's Best Titles
When her aunt and uncle take her from New Mexico to Lugano, Switzerland, to attend an international school, thirteen-year-old Dinnie discovers an expanding world and her place within it.

Thirteen-year-old Zinnia Taylor uncovers family secrets and self truths while clearing a mysterious settler trail that begins on her family's farm in Kentucky.

A young student, who comes to love poetry through a personal understanding of what different famous poems mean to him, surprises himself by writing his own inspired poem.

Thirteen-year-old Sophie and her cousin Cody record their transatlantic crossing aboard the Wanderer, a 45-foot sailboat, which, along with uncles and another cousin, is en route to visit their grandfather in England.

After her mother leaves home suddenly, 13-year-old Sal and her grandparents take a car trip retracing her mother's route. Along the way, Sal recounts the story of her friend Phoebe, whose mother also left.

View more titles by Sharon Creech.
More on the Web
Ohio Reading Road Trip
As a Buckeye State author, Sharon was given a nice write-up on Greater Dayton Public Television's Website.
Sharon Creech at the 2009 National Book Festival
Very entertaining but the sound goes off at 5:16 and comes on again at 8:07—it happened at the Festival—but she catches up. She discusses her works, including her then-most-recent, The Unfinished Angel.
These articles can be found in our online Research section. You will need a CRRL card to access them:
From Biography in Context
"Sharon Creech." Authors and Artists for Young Adults. Vol. 52. Detroit: Gale, 2003.
"Sharon Creech." Contemporary Authors Online. Detroit: Gale, 2014.
Other Resources
*"Judging Authors by the Color of their Skin? Quality Native American Children's Literature." Stewart, Michelle. PagniMelu. 07-01-2002. pg. 179.
"Q & A: Sharon Creech." Anonymous. School Library Journal. 09-01-2001.  
"Sharon Creech." (husband of writer discusses her) Rigg, Lyle D. The Horn Book Magazine. 07-17-1995.